2020 DCI March On! Telethon
"DCI Rewind: The After Party" To Follow DCI March On Telethon
"DCI Rewind: The After Party" To Follow DCI March On Telethon
We've got a brand new style of event coming to FloMarching and the first one of its kind is going live on August 8th after the DCI "March On" Telethon!
Jul 31, 2020
by Andy Schamma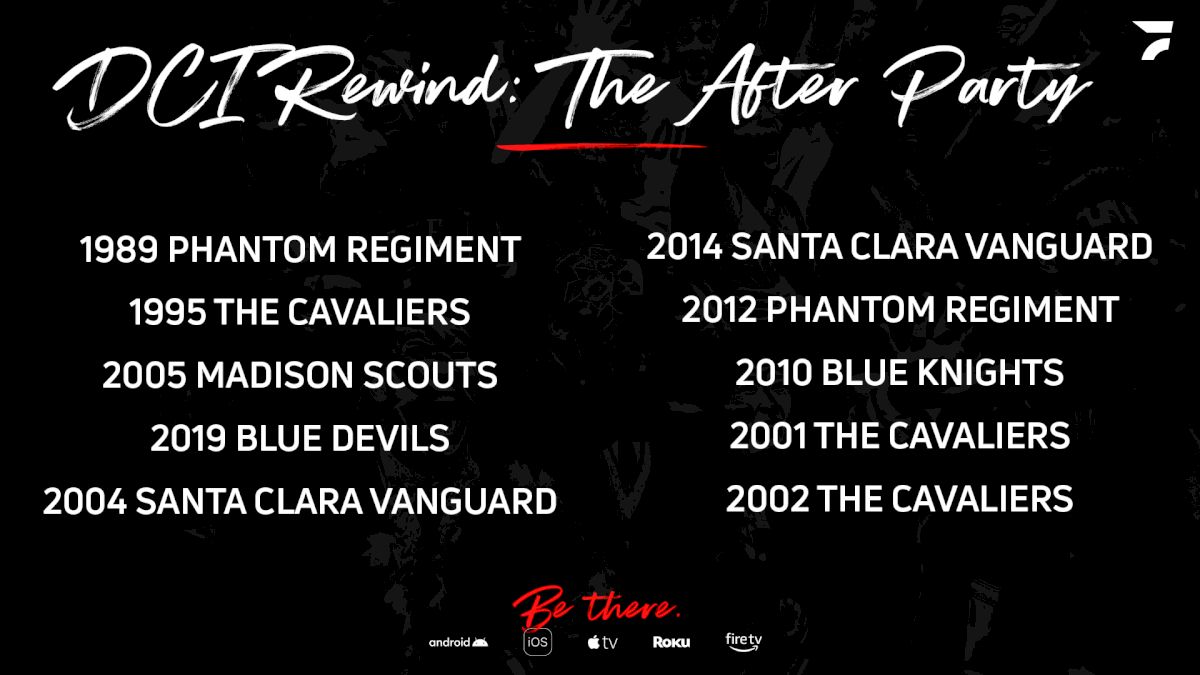 Starting at 5 PM ET, you can tune into a night full of drum corps starting with the DCI "March On!" Telethon for three hours celebrating drum corps history accompanied by hosts Steve Rondinaro and Dan Potter. Click here for more information on what's included in the DCI March On Telethon!
Immediately following the telethon—which will be available to watch here on FloMarching, and Drum Corps International's Facebook and YouTube—will be something brand new to FloMarching:
DCI Rewind: The After Party!
Around 8:45 PM ET, tune in to FloMarching's "DCI Rewind: The After Party" for hours of performances from Drum Corps International's storied history. We've put together a night of celebration with a line-up of knock-out shows that everyone can enjoy. In between the performances, we'll be injecting small views into the past of DCI with exclusive interviews and never-before-seen content.
Here's the best part—not only can you tune in LIVE to catch these performances on Saturday night, but they will also be added to our library of archives available to FloMarching subscribers whenever and wherever!
On The Schedule
1989 Phantom Regiment - "From The New World... Into A New Age"
1995 The Cavaliers - "The Planets"
2005 Madison Scouts - "The Carmen Project"
2019 Blue Devils - "Ghostlight"
2004 Santa Clara Vanguard - "Attraction: The Music of Scheherazade"
2014 Santa Clara Vanguard - "Scheherazade: Words 2 Live By"
2012 Phantom Regiment - "Turandot"
2010 Blue Knights - "Europa!"
2001 The Cavaliers - "Four Corners"
2002 The Cavaliers - "Frameworks"