2020 DCI - Commentary, Interviews & More
A Year In Review: DCI 2015
A Year In Review: DCI 2015
Take a look back at one of the most competitive DCI seasons in recent history—2015.
Apr 24, 2020
by Jeff Griffith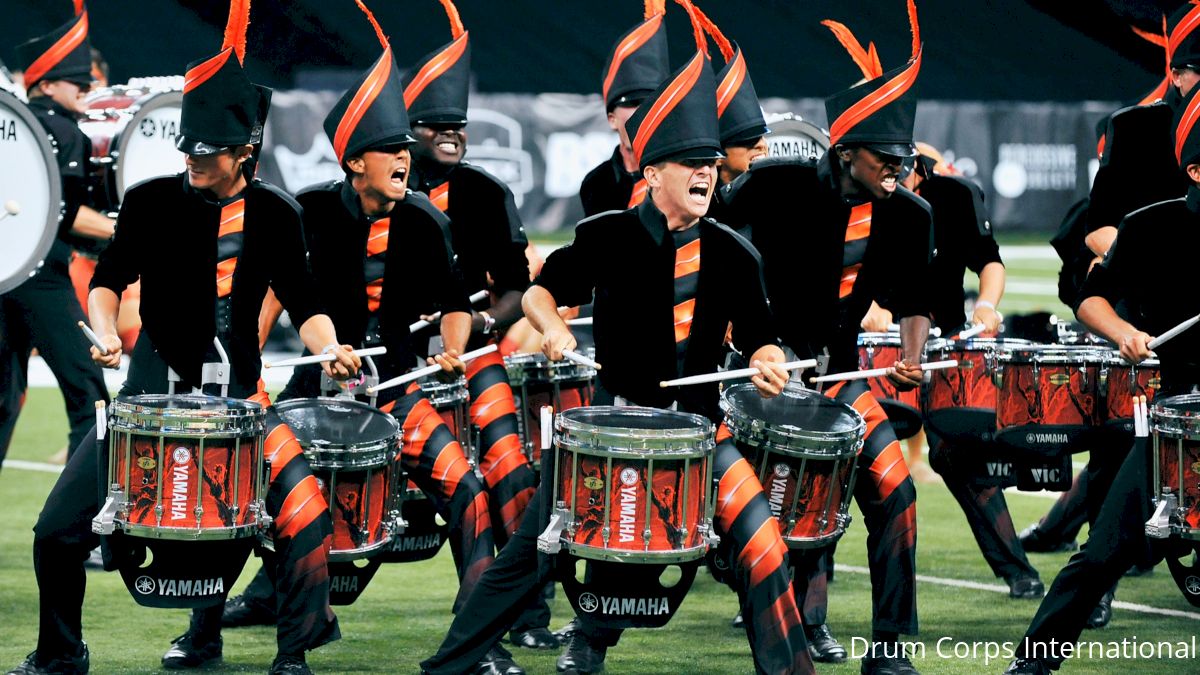 Unlock this article, live events, and more with a subscription!
Get Started
Already a subscriber? Log In
People often remember the 2015 DCI season as one of the most competitive — at the top of the leaderboard, in particular — in recent memory. In some ways, that's true; the 0.575 points that separated first-place Blue Devils and second-place Carolina Crown on Finals night is the among the tightest top-two margins of the last 10 years.
Crown, in 2015, was a beloved crowd-favorite, and for good reason; Crown's "Inferno" is one of the more widely-adored shows of the 2010s even to this day. As such, the Blue Devils' gold medal at season's end is often remembered as an upset, and in a sense, it was — the Concord corps did trail by 0.15 points in Semifinals.
But, in all reality, when you look at that season as a whole, a theoretical victory by Carolina Crown might have been even more come-from-behind than what Blue Devils pulled off in Finals. We'll explain why.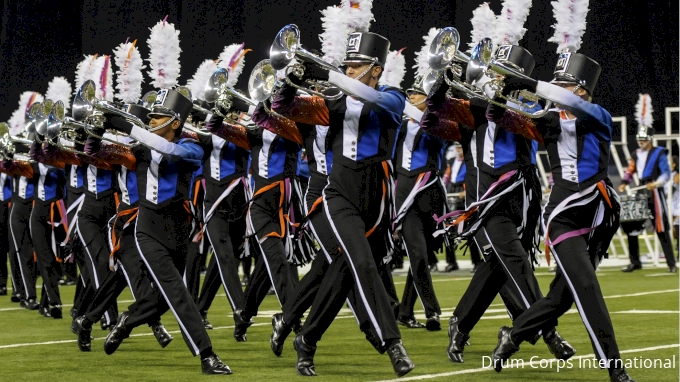 That, and many more interesting facts, come to light when you dive a little more deeply into the numbers and put the 2015 competitive season under a microscope…
WORLD CLASS
Final days: Carolina Crown defeated Blue Devils by 0.15 points in 2015's Semifinals, and the following night, Blue Devils won by 0.575. In Prelims, Crown did top the Concord corps by 2.125 points, but two points of that margin came from a penalty incurred by the Blue Devils. So, things were pretty tight all three nights in Indianapolis.

Bird's-eye view: That said, Crown's win in Prelims was just its second head-to-head defeat of Blue Devils on the entire season; the first came on July 26 in Atlanta, by just 0.025 points. Prior to the DCI World Championships, Blue Devils held a 13-1 head-to-head record, and only saw their lead dip to a quarter of a point or less on just three occasions, all of which came in late July.

Another late push: Bluecoats, performing "Kinetic Noise," earned a bronze medal in 2015, beating out The Cadets for that honor. But of the two corps' 16 total meetings (including three at World Championships), Bluecoats won three; one came in mid-June, by just a tenth, and two came in Indianapolis at season's end. The two also tied in their last meeting prior to World Championships.

Making more Noise: Not only did Bluecoats turn on the jets to earn a bronze medal, but — and this may be the most forgotten fact of the 2015 season — they almost fought their way into what would have been a second-consecutive silver medal. Bluecoats had actually topped Carolina Crown in the corps' first seven meetings of the summer, but Crown took the remaining 13. The Fort Mill, South Carolina corps held a lead of a point in Semifinals, but Bluecoats shaved that deficit down to just 0.15 on Finals night.

Blue Knights' best: One could make the case that 2015 was Blue Knights' best season, competitively-speaking, of all time. The corps' final score in 2019 (92.050) is technically its highest to date, but in terms of placement, Blue Knights' sixth-place finish in 2015 stands alone as the corps' best ever.

Close Calls: Troopers came millimeters from scratching their way into the Top 12 for what would have been their first time since 2009 and second since 1986, but the final spot ultimately went to Crossmen, despite a penalty of 1.4 points that ended up separating the two corps by just 0.075 points. Colts were right there as well; the Iowa corps was just 0.85 points away from catching Crossmen.

Foreshadowed: The Academy — after having taken 19th in 2013 and 16th in 2014 — rose back into the Top 15. Granted, the Arizona corps had been there before, but this time, it would be a springboard to an inaugural Finals appearance the following season. We didn't know it at the time, but Mandarins, who were just three years removed from what would be there first Top 12 bid (2018) — and two years removed from coming within an arm's reach (2017) — were still lurking in 20th place.
OPEN CLASS
Late Push: If you follow that first yellow line in the above graph, you'll notice something; the Spartans were never truly positioned for an Open Class medal until it pretty much came time to award said medals. Entering Open Class World Championships, Spartans didn't own a single head-to-head victory over Legends or Genesis, and their lead over the two in Open Class Prelims was just mere tenths. Even so, 2015 marked Spartans' first medal since 2010, and what would be their last until being crowned 2019 Open Class champions.

New heights: 2015 was Legends' first time earning a spot not only among the Open Class top five, but among the group of 25 DCI World Championship semifinalists; the Kalamazoo, Michigan corps beat out 26th-place 7th Regiment by just 0.075 points for that honor. Legends have missed out on the Top 25 just once since then.

Come-From-Behind: In the past five years or so, Vanguard Cadets' championship years (2015, 2017, 2018) have all followed a noticeably similar formula; early-season losses — specifically to Blue Devils B — have been erased by late-season surges. 2015 was a prime example, as the Vanguard Cadets lost four of their first five meetings with their Bay Area Open Class foes, by as many as 1.2 points. But by season's end, the Santa Clara corps held a resounding advantage of 2.175.

Bursting onto the scene: River City Rhythm made its DCI debut in 2015 and came out firing, earning a Top 10 finish at the Open Class World Championship Finals. The Minnesota corps has earned an Open Class finalist slot in each of the four seasons since.

On the rise: Now staples among the Open Class Finals pool, Guardians, Louisiana Stars, and Southwind had yet to even become Open Class World Championship competitors by 2015. Louisiana Stars were in their second year performing regional tours, while Guardians and Southwind were both still SoundSport teams at the time.