WGI
Exclusive: Q&A With Diamante's Mario Ramirez On 2020 Costume Design
Exclusive: Q&A With Diamante's Mario Ramirez On 2020 Costume Design
Get an exclusive look into the design of Diamante's 2020 uniforms, their show, and the mind of Mario Ramirez.
Mar 7, 2020
by Victor Trevino
Unlock this article, live events, and more with a subscription!
Get Started
Already a subscriber? Log In
Diamante Winterguard, based in Anaheim, CA, has become one of the most influential performance ensembles competing in WGI today. Their deeply emotional and elegant programs exploring fragile, complex human connections have catapulted the guard into the upper echelons of the sport, earning them a Bronze Medal as recently as the 2019 WGI World Championships. Needless to say, the color guard world waited with anticipation to see what the innovative company would do next.
Earlier this week, Diamante announced they would reveal the costumes for their 2020 program entitled "A Conversation With You" on Saturday, March 7. Naturally, we at FloMarching immediately reached out to Creative Director Mario Ramirez to get the backstory on this year's costume design and find out what the guard had in store for 2020. What ensued was a wide-ranging conversation about fashion, classical music, and how costume design can reveal the vulnerability of his company's performers.
Let's start by talking about this year's show. Can you give readers who haven't had an opportunity to see the show a little overview of the 2020 program?
"There were a lot of elements that went into this year's show. One of the things that struck me as we were thinking about the show's theme, 'A Conversation With You,' was that you can have a conversation without ever opening your mouth. We use body language, art, movement and choreographic moments to tell a story. It was so powerful to me that we know what someone is saying based only on their body language. So we wanted to explore building a show to portray how we have conversations without even speaking. You are vulnerable when you start having a conversation. You put yourself out there to be judged, to be liked, disliked... we're all sharing our opinions, our thoughts, and there are so many things happening today that a conversation goes a long way."
There's always been an elegance to Diamante costume design. Where does that inspiration come from? And maybe share who are some of your favorite fashion designers.
"I studied fashion a lot and owning the company (M. Ra Couture) and doing both costuming for and teaching many groups over the years has allowed me to understand the body. And what I am asking Diamante to do (as performers), means I can't have the company in long skirts or things hanging from the body because of my choreographic choices. But with that in mind, designers like Alexander McQueen, Gucci, Balenciaga, even Michael Jackson are all big inspirations for me as well."
What is the design process? Can you walk us through how you determine the costume design?
"When it comes to Diamante, we don't rush the process. I have to figure the show out first. That's very important. Because we are able to design, stage, costume and choreograph the show, we don't have a deadline that we must do this (costume design) in. We allow the show to evolve first. And every show plays a huge part in the costume design. What are we trying to get the audience to feel? How does it look on the floor with the choreographic choices we want to portray? Does it stand out too much or does it blend in more? Last year, we wanted to the red string to be the powerful thing out there so we went white on white. The emotional aspect of the show dictates our costume design choices."
What else influences your design process?
"I am always looking at what the fashion industry is doing. Where are the big fashion designers taking things? The choices of the designers and the trends. And I often envision Diamante walking down the runway and when I do, I always see them walking to classical music to juxtapose the edginess of our costume design. Alexander McQueen would use that as part of his fashion shows and I loved that. The shows were always so weird and intense but he would use this classical music and the juxtaposition of that was so interesting."
You have used interesting materials in the past. The costumes in 2017 and 2018 were black and made use of leather and mesh to accent the costume. Then in 2019, there was a complete turnaround to white but also the accent materials were softer. Why these material choices?
"Adding the elements of mesh to me allows the audience to see part of the skin. It comes through raw and it reveals the vulnerability of the performers. It allows them to show part of themselves and forces them to dig into their performance more. They love it. They get to transform to the performer they were meant to be. They allow themselves to become who they were meant to be on the floor and that's so important."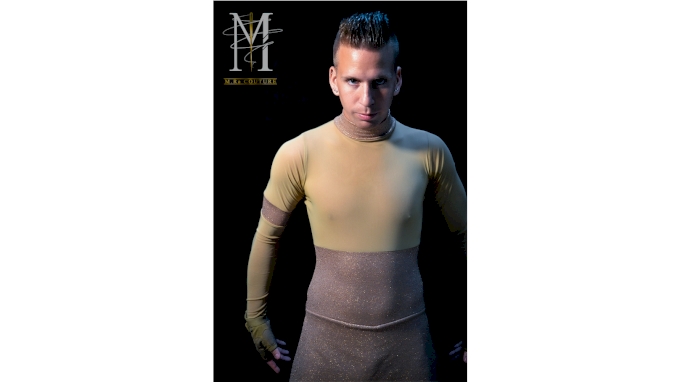 You mentioned earlier that you didn't sketch out the costumes this year. That you just allowed the creative process to happen in real-time. With that in mind, how did that affect this year's design and what is different this season?
"We just start pinning stuff on to the bodice. We look at swatches and then we start grabbing fabrics. I will tell you that the first costume I did for Diamante this year was in blue. Because when I thought about conversation I thought about soundwaves that are often represented in blue like when I'm doing music editing. But we went back and said... this color choice is a given. People are going to expect a blue or white or black design. We started thinking about it further and decided we wanted to emphasize the vulnerability that can come with a conversation. So we decided to go with a nude palette this year - a light tan costume with a little bit of copper. We wanted it to look like flesh. Like you're exposed. And we wanted the costumes to have an intimate feel this year to reflect that vulnerability when you put yourself out there."
It sounds like you have thought through every element of your design and how it can convey meaning or a message through particular elements choices - be that the material, the color, etc. What is one thing in the design of the Diamante costume that has particular meaning to you?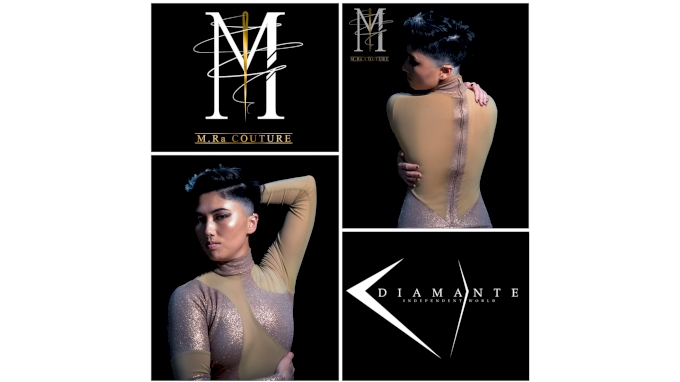 "The fabric is amazing this year and we are using mesh again. But we are putting a design over the mesh on the girls this year to give it a little more of a feminine touch. Its because to me women are not allowed to expose themselves in conversation as much... even today. People still try to tell women how to speak and when to speak. They're not given the same pass and opportunity as men and that's not right. We wanted the audience to consider our female performers a little bit extra this year. We wanted them to see our girls a little more. They have every right to be heard, to be seen and to do what they want to do. They are so important to our lives. They carry our children. They do so much for us and it was important for me this year to give them more of a voice through some design elements in our show."
Diamante's program, "A Conversation With You," can be seen on FloMarching on March 14 when they perform at the WGI Guard Power Regional in Las Vegas, NV.