Filled with the best documentaries, interviews, features, technique videos, and more on your favorite groups—FloMarchingTV will launch on Friday, February 7th and continue on Saturday, February 8th as the WGI 2020 season starts live on FloMarching!
Every week, you can now tune into FloMarchingTV live on your apps and browsers to catch some of the newest content from the FloMarching team covering DCI, WGI, and BOA all year-long!
Kicking off the launch of FloMarchingTV, we will be releasing our 2020 DCI Streaming Schedule and our first look at the 2020 Blue Devils brass and percussion sections as they finalized their cast at January camp.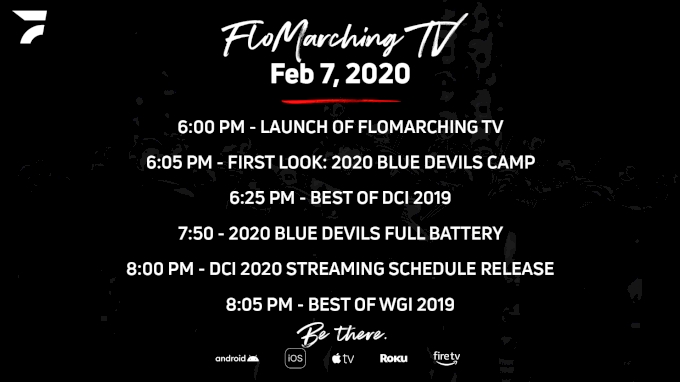 Tune in at 6 PM ET to start watching some of the best DCI 2019 content including our Encore series and a number of behind-the-scenes features that take a deeper look into what makes the best drum and bugle corps "the best." Around 8 PM ET we will do a LIVE release of our 2020 DCI Streaming schedule and unveil our 35+ event summer.
Following the release of the DCI streaming schedule, stay tuned to FloMarchingTV for some of the best WGI content we have ever captured we wrap up the night. Tune in ALL DAY on Saturday, February 8 for more FloMarchingTV during our first weekend of the 2020 WGI season LIVE on FloMarching!