2019 BOA Grand National Championships, pres. by Yamaha
Union (OK) Offers A Modern Twist On A Classic Marching Tune
Union (OK) Offers A Modern Twist On A Classic Marching Tune
Oklahoma's lone representative at the 2019 Grand Nats, Union, showed you their twist on a classic tune—"The Young Person's Guide to the Orchestra."
Nov 16, 2019
by Jeff Griffith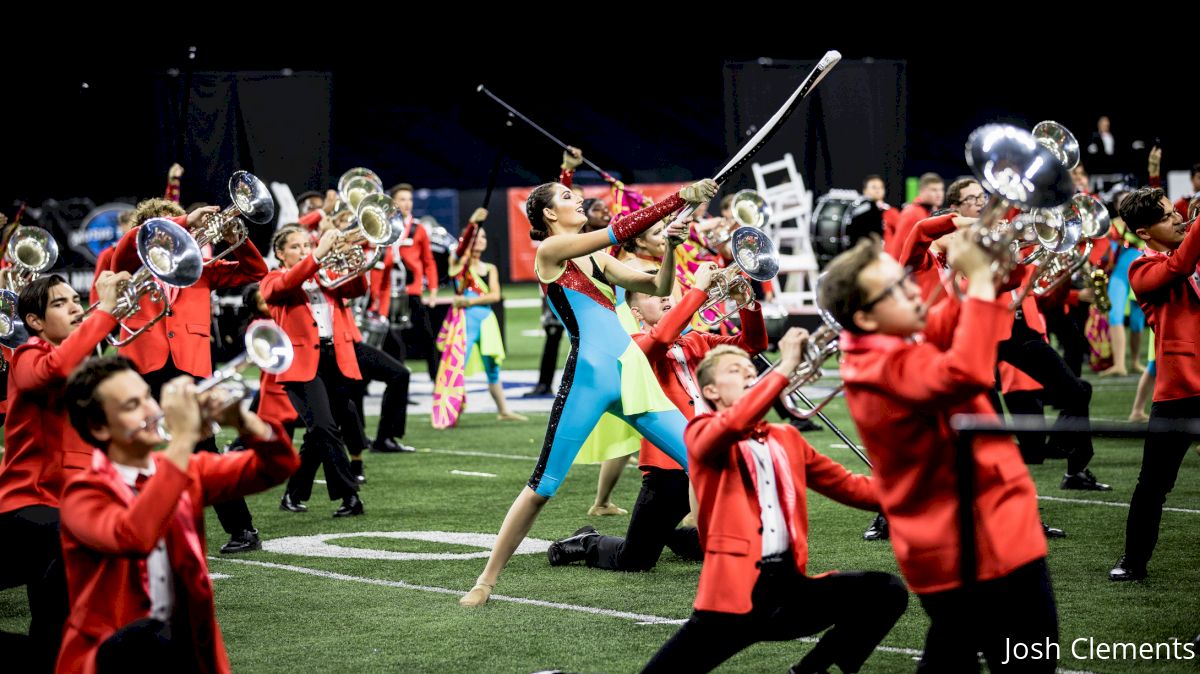 Unlock this article, live events, and more with a subscription!
Get Started
Already a subscriber? Log In
When you watch Union High School take the field, you might be the slightest bit confused. Especially once they're set up for the start of their show, I wouldn't be surprised if you're asking yourself, is this going to be a standstill?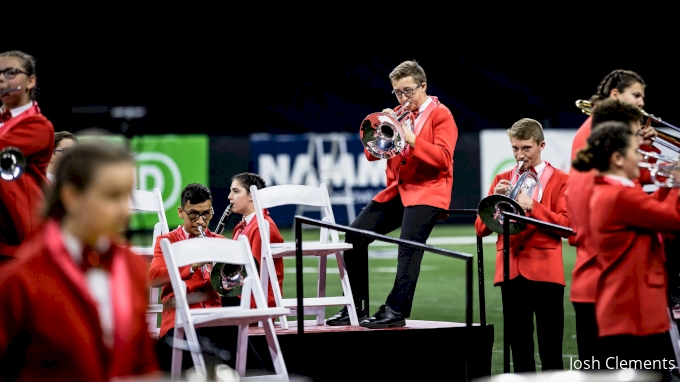 Okay, if you haven't seen this show, now you're confused. Allow me to paint you a picture.
Union's opening setup features everything you'd expect out of an evening at the symphony. The vast majority of the band is positioned on white seats, across a series of red risers in the front-middle of the field. Prior to the show's first note, they briefly "noodle" and warm up, before tuning together—not unlike what you might hear when sitting in a concert hall before a musical performance.
Everyone's seated with a nice posture, wearing black slacks, red tuxedo jackets, white shirts, and red bowties.
And then... they smack you in the face with an opening impact of Benjamin Britten's "The Young Person's Guide to the Orchestra" and within seconds, they're out of their chairs, performing choreography on the risers.
There's no battery percussion or color guard equipment yet, but they'll come out soon. For now, this is still just meant to be an orchestra.
Moreover, this is "The Orchestra's Guide to the Young Person," Union's unique, innovative, and captivating 2019 production.
"The idea of the show is that we take something that is very classic, very traditional, old if you will, and turn it into something new and innovative," director Amy Mayes said. "We just flip some things that have been traditional on their head and turn it into something new and contemporary, while still holding on to the idea of the old and traditional as well."
Once the opening sequence is complete, Union—in a way—deconstructs the orchestra idiom and warps into something with a modern flair.
The chairs and risers get strewn about the field, the tuxedo jackets go away and reveal sparkling red suspenders, and the color guard's original ballgown look gives way to a lively, bright, form-fitting costume.
Over the course of the show, classic and recognizable melodies are twisted and reimagined as the show's concept of orchestra devolves into something new. The most notable example of this happens in the show's ballad movement, which features Edward Elgar's "Enigma Variations."
If you're a drum corps fan, you've heard it before — you heard it in Carolina Crown 2010 and Phantom Regiment 2013 to name a couple — but you've never heard it quite like this.
Union's ballad movement is really the point where you see — or, more accurately, hear — the classical idea of "orchestra" at its most deconstructed.
"We're still harkening back to that classic piece of music and its beauty and everything that we love about it," Mayes said. "But we have some very different sounds."
Those "different sounds" range from the likes of an alto saxophone, which Mayes described as handling the main solo, to a theremin featuring the melody prior to the movements. And on top of all of that, there are even shades of a funky bass groove nestled underneath the band's sound.
It's so different. It's awesome. And it perfectly embodies the spirit of the show.
"We've just melded all of the things together now, we have the old, we have the new, we have this new package that respects and gives weight to both tradition and innovation, it just ties all of those things together in such a fun package."
According to Mayes, "The Orchestra's Guide to the Young Person" was originally the long-time brainchild of designer Jon Vanderkolff.
"This is a show idea that he's been wanting to do for quite some time," she said. "We knew we had some classics that we wanted to do in a new way, so that's kind of where that came from."
In turn, the members have wholeheartedly bought into the concept. It's not necessarily an easily accessible show, but it is one that Mayes said has been a blast for members to get used to and make their own as the season has progressed.
"They're thirsty for it, they're just so eager to delve into every level that we can possibly give them," she said. "They're eager to take on every bit of character and everything that they can to bring this idea this idea to life, and we feed them as much of that as we can to help them get into that persona as best they can."
That's the goal at the end of the day, right?
If nothing else, Union's show is incredibly unique and creative, and it's a concept that really hasn't been tried before.
That was the plan all along. According to Mayes, it always is.
"We very much do not like to repeat an old idea," she said. "We try and do something that's going to be fresh and new."
"We love this show, we hope that the crowd loves it," she added. "It's been a wonderful show to put together and we hope that comes through in the energy they get to experience. It's near and dear to us for sure."