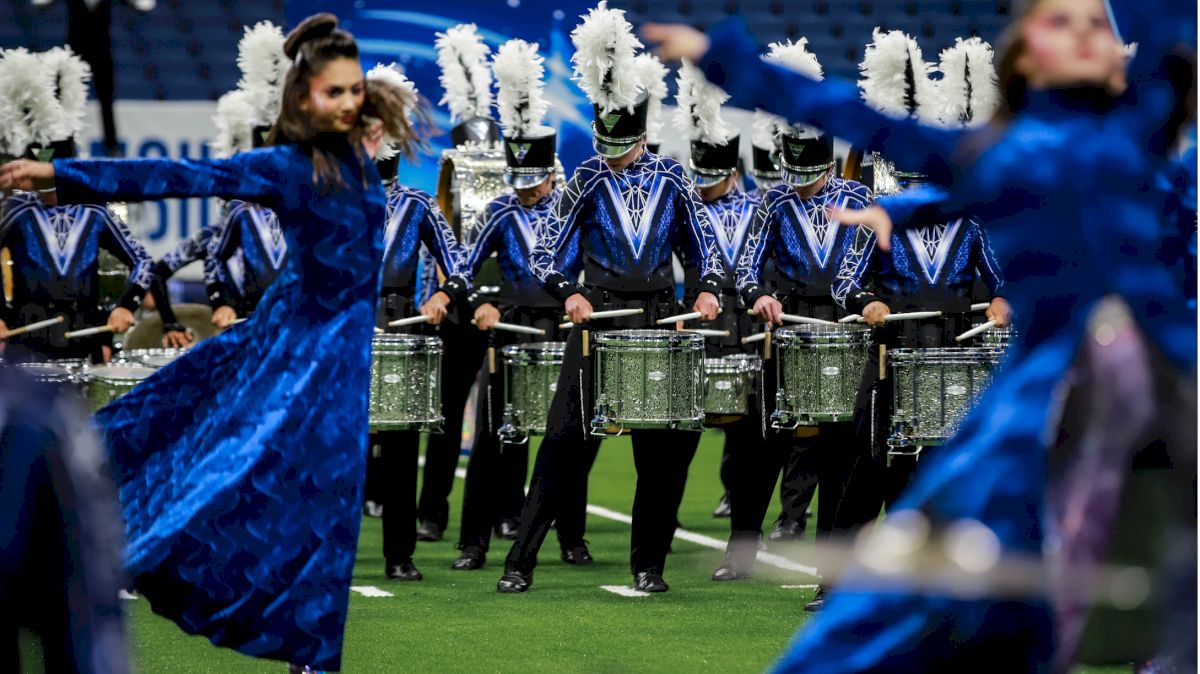 Unlock this article, live events, and more with a subscription!
Get Started
Already a subscriber? Log In
There's nothing as fun as an unpredictable band contest, and the BOA San Antonio Super Regional never fails to provide some impressive and unexpected performances and results. This year, we saw a group that won a regional championship earlier in the season fall just short of making finals, and we saw a group that missed finals at a regional championship rally back and earn a spot in super regional finals.
Starting At The Top
Ronald Reagan (1st, 97.30) was the clear winner Saturday night with a powerful and visually stunning show that captivated audiences both in the dome and online. In a bit of a rebuke of current design trends, Reagan's show featured the traditional uniforms they've worn for several seasons instead of show-specific costuming; they also had no props aside from some screens across the front side line. Through the sheer size of the ensemble and visual design they were able to control the stage as well as any group with huge props.
Less than a point behind, Vandegrift (2nd, 96.40) not only went home with the silver medal, but also earned the highest achievement award for music performance. But their visual performance wasn't lacking, earning the highest score in the visual performance caption in prelims. This is an awesome position to be in just over a week out from their trip to Grand Nationals.
The next five groups were separated by just over a point, a smaller gap than from second to third place. With such incredibly close placements, it's no surprise that each of these groups earned a top three ranking from at least one judge.
Vista Ridge (3rd, 95.225) earned the highest score in individual visual, highlighting the band and guard's impressive movement training. The show, especially the visual program, was extremely demanding. They may not have been the most perfectly clean group, but what they were being asked to do was incredibly difficult, and these students clearly stepped up to the challenge.
Class AAA champion Leander (4th, 95.075) finished second in prelims and first on their panel, outscoring both Vandegrift and Vista Ridge. Their strength in finals was in general effect, where they finished second in both music and overall effect. With such an incredible show this season, if they're able to continue cleaning and improving their performance captions, they could certainly make a huge statement at Grand Nationals next weekend.
District-mates Hebron (5th, 94.90) and Marcus (6th, 94.60) were two of the most evenly matched bands this weekend. Marcus continued to be rewarded for their musical achievement, finishing with the third highest music performance score in finals after winning their class award for music performance in prelims. Hebron's one tenth deficit in music was entirely made up by their one tenth margin over Marcus in visual performance. Therefore, general effect, which Hebron won by three tenths, made up the entire gap between Hebron and Marcus in finals.
Claudia Taylor Johnson (7th, 94.10) and The Woodlands (8th, 92.55) had two of the most enjoyable shows to watch this weekend. Both engaged the crowd with compelling themes and exciting music. Claudia Taylor scored as high as 2nd in visual effect with their exciting Lion King show. Their commitment to scenery and costuming was unmatched all night, except maybe by The Woodlands, whose sailor uniforms and guard costumes perfectly matched the theme and time period of the show.
Flower Mound (9th, 90.95) and LD Bell (10th, 89.65) are two groups that can show us just how intense this competition is year after year. With such a huge line up of outstanding bands, there just aren't enough top half placements for all the deserving bands. Even winning an early season regional or medaling at another super regional doesn't guarantee you a spot at the top of finals. Just making finals here in San Antonio is enough to show how well these students perform.
Separated by just one tenth, James Bowie (11th, 89.20) and Round Rock (12th, 89.10) both returned to finals this season after not advancing to finals in 2018. In music performance, these two band finished in a three-way tie with Flower Mound. Bowie's higher visual score though was just enough to give them a leg up over Round Rock's higher general effect score.
Round Rock was one of the biggest surprises to be announced as a finalist. After falling just short of finals at the Austin Regional earlier this season, they had some huge ground to make up, and that they did it. If they're able to sustain this level of growth as they prepare for a trip to Grand Nationals just next week, they will certainly not be disappointed with the outcome.
Keller (13th, 88.85) finished just a quarter of a point behind Round Rock, led primarily by their ninth-place score in visual performance. Their tenth place finish in prelims was a strong statement that they deserved to be in finals. Similarly, first-time finalist Pearland (14th, 87.05) was solidly into finals, finishing 12th in prelims. After this exciting season, we cannot wait to see what they'll bring next year!
With such a stiff line up, it's no surprise to see dozens of incredible bands finish just below the finals cut off. Cedar Ridge's prelims score placed them just 0.075 away from finals, with Westwood and Westlake also scoring within a point of a finals appearance. Vista Murrieta, the Fan Favorite winner and only California band competing in San Antonio, finished 20th overall and as high as 12th in music ensemble and 13th in visual ensemble.
Roma earned the Class AA champion title, led by their music performance. The group finished 20th in music ensemble and 22nd in overall music performance. Forney and Pioneer finished second and third in class.
In Class A, all three placements and caption awards went to out of state bands. Oklahoma's Collinsville earned the top spot, with Archbishop Alter from Ohio and Hollister from Missouri claiming second and third place in class.
Photo Galleries
Whether your band made it into finals or not, check out our photo galleries of ALL preliminary performances.
Here's just a small sample of the awesome photos from photographers Daniel Regalado and Emily Jones.