2019 BOA San Antonio Super Regional Championship, presented by Yamaha
Super Fan Preview: 2019 San Antonio Super Regional, Nov. 1--2
Super Fan Preview: 2019 San Antonio Super Regional, Nov. 1--2
The super regional features 34 bands that have already made finals at a regional this season, including all six regional champions named this year in Texas.
Oct 31, 2019
by Jeremiah Wooten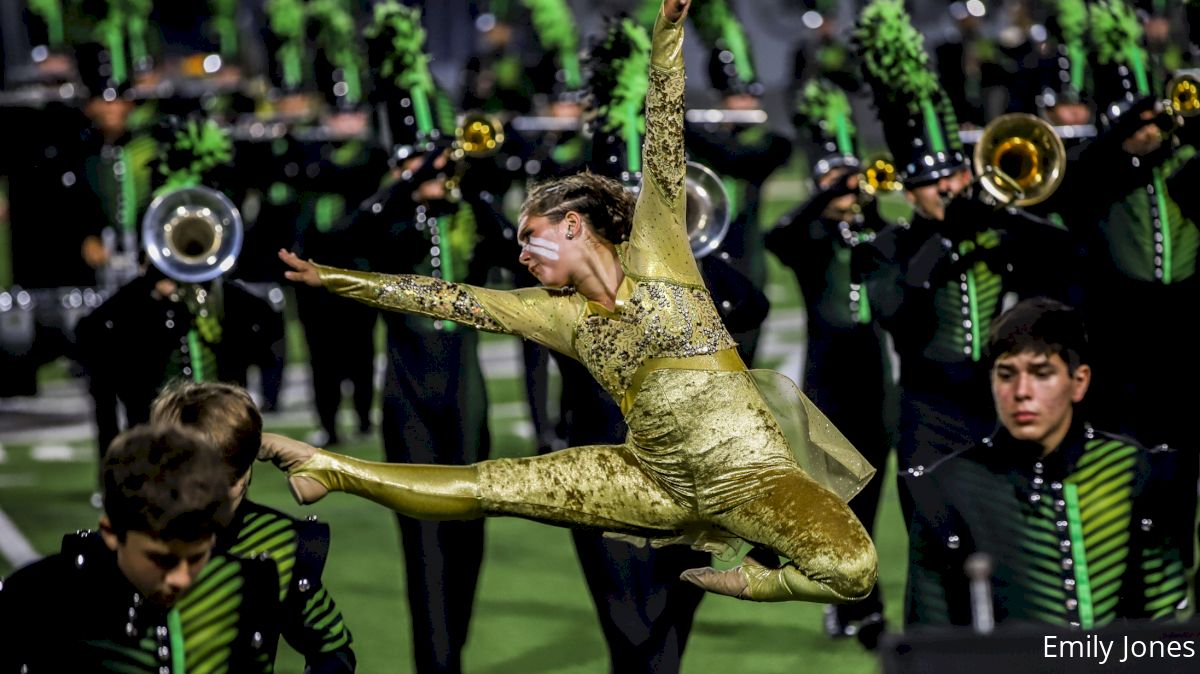 Unlock this article, live events, and more with a subscription!
Get Started
Already a subscriber? Log In
While there are no prerequisites to participating in a super regional, other than simply signing up, almost every band in attendance has already competed in at least one regional championship earlier in the season. The results from those six Texas regionals can be very helpful in dissecting the huge lineup of bands scheduled to compete in San Antonio. This year's San Antonio Super Regional features 34 bands that have already made finals at a regional this season, including all six regional champions named this year in Texas.
Watch the 2019 BOA Season LIVE on FloMarching!
Training | Events | ENCORE
Medalist contenders from the Dallas Regional
Returning champion Flower Mound is already off to a strong start this season after winning the BOA Dallas/Ft. Worth Regional in early October. For FloMo, there's a pretty unusual link between the Dallas Regional and San Antonio. The band has never won San Antonio without having won the Dallas Regional earlier that year, nor have they won the Dallas Regional and not gone on to win San Antonio that season. However, there are quite a few bands that will be looking to break that pattern this season.
One of those bands is Hebron, who placed just behind Flower Mound in Dallas. Their show is incredibly challenging and is the kind of product that needs all season to perfect. But, unlike Flower Mound, Hebron's season isn't coming to an end this weekend, so it's very possible we'll still be seeing a show that's not quite done yet. After all, Hebron still has two weeks after San Antonio to put on the final touches for Grand Nationals.
With Hebron's long arc to the season, Dallas bronze medalist Marcus could make some surprise strides on their Lewisville ISD neighbors. Marcus did recently place above Hebron at a local UIL-style contest, but it's always difficult to predict how those results will translate to a BOA contest, not to mention how much better both of these bands can get in just a single week.
Medalist contenders from the Houston Regional
Ronald Reagan is another such group that has been putting a lot of pressure on Flower Mound for years, most recently finishing just two-tenths behind at last year's San Antonio Super Regional. While they haven't faced Flower Mound head-to-head, Reagan has their own regional champion title under the belt after winning the Houston Regional. They've also beaten Vandegrift head-to-head at a local competition in Austin.
The Woodlands finished second behind Reagan in Houston and are another Grand Nats-bound band with the larger arc to their season this year. You can expect their San Antonio performances to be like a completely new band from what we saw in Houston, as they prepare to compete on the national stage in Indianapolis.
Medalist contenders from the Austin Regional
With their first trip to Grand Nats happening this fall, Vandegrift is another strong contender to take home a medal. The band earned some early season buzz after their win at the Austin Regional among top bands like Leander, Claudia Taylor Johnson, and Vista Ridge. Since breaking into finals at San Antonio in 2013, the same year they won the music caption, the band has placed as high as third. As always, a medal won't be easy to come by with so many extraordinary groups in attendance.
Leander earned the silver medal in Austin, an impressive start to their season. Their exciting 2019 production "RadioActive" will certainly contaminate you with joy through their creative musical selections that are played so well. In just the past few years, Leander has placed anywhere from third to 14th, but has always managed to offer entertaining shows that crowds adore.
Claudia Taylor Johnson is always a wild card, and not just because their show has a bit of a wild theme. With such a unique identity and approach to show design and instruction, Claudia Taylor has the potential to stand out like no one else. Despite two challenging performing situations at the Austin Regional — first severe wind in prelims that caused the backdrops to move across the field, then a misplaced prop in finals that caused the students to have to rewrite half a field's worth of drill on the fly — Johnson still finished in third place, quite an accomplishment considering the circumstances. Now, after nearly a month of hard work and some big changes to the show, they could finish in just about any placement on Saturday night.
Vista Ridge turned a lot of heads last season as they suddenly established themselves as one of the top bands in Texas from the very first show. They finished that banner year with a fourth-place finish in San Antonio, followed soon after by a 6A State Championship. At this season's Austin Regional they finished in the same spot, behind the same three groups they were able to outscore by the end of the season. It's anyone's guess if they'll be able to pull off that impressive feat again this season, but their win at the Midland Regional was a good step in that direction.
Too many medalist contenders!
If you were keeping count that's nine different bands that are in a good position to walk away with one of three medals, and that doesn't even cover all of the bands that have already earned medals at another BOA regional this season. If you make the dangerous assumption all nine of those bands will be in finals, that only leaves 5 more spots for the 25 other bands that made finals at a BOA regional earlier this season.
Returning finalists from last season
Cedar Ridge and Keller each have amassed quite a record of finals appearances in San Antonio. But you don't get any points for what you accomplished last season. That streak of finals appearances must be earned each and every season. Westlake and LD Bell will also be looking to repeat as super regional finalists, after each breaking back into finals last season after a few years on the outside looking in.
Hendrickson is in a bit of a tougher position having not made finals yet at at regional this season. While it's not required to make finals at a regional before competing here in San Antonio, with so many regional finalists in attendance, it's extremely tough to stand out. But if anyone can stand out, it'll be the bright colorful show that Hendrickson puts on "for a Decadent People."
The breakout groups of 2019
Rouse and Westwood each made history this season when they advanced to finals at the Austin Regional. Since that big milestone, Rouse has continued to display a tremendous amount of growth, swapping placements with Cedar Park in local competitions the past few weeks. Westwood went on the make an even bigger statement in Houston, placing second in prelims, ahead of The Woodlands, before sliding back to third place in finals.
It wouldn't make sense to mention Rose and Westwood without also mentioning Lake Travis, who placed higher than both of these bands in Austin. While they haven't had the same stand out placement at any single event this fall, the band did already earned the title of super regional finalist the season, placing 12th in St. Louis two weeks ago.
Other groups on the bubble of finals
Cedar Park and James Bowie have each been in San Antonio numerous times before, but found themselves just outside last season. Both have had strong starts to their seasons, placing ahead of many past San Antonio finalists, which can be a reassuring sign, but is my no means a guarantee of how this weekend will turn out. Bowie even won the Waco Regional ahead of consistent super regional finalist Keller.
Coppell and Wakeland have two of the most talked about shows of the season. Both shows are straightforward on the surface, which helps make them accessible to any audience. But they also strike the balance of having the right amount of depth both musically and visually. While the shows are nothing alike, you'll find your attention similarly captivated whether hearing the story of Apollo 11, or simply entranced by hundreds of magical veils.
Vista Murrieta is one of the top groups in California, and will be a welcome addition to this weekend's Texas-centric super regional. Vista Murrieta's last time competing against a Texas band was the 2016 Grand National Championships, when they were the first band out of finals, ahead of James Bowie, but behind several other Texas bands that did advance in finals. It's hard to know just what to expect from this band placement-wise, but you can expect a fantastic performance when they step onto the field Friday night.
Even more can't miss groups
This year there are more groups than ever traveling up from South Texas. Along with McAllen regional champion John B. Alexander, McAllen finalists Roma, Pioneer, and United are making the trek to San Antonio, as well as La Joya and San Benito.
Timber Creek and Keller Central have been close competitors all season, both making finals at the Dallas Regional. Timber Creek additionally took home the silver medal from the Midland Regional earlier this fall.
Several more Houston finalists are also competing this weekend. Clear Brook, Pearland, Oak Ridge, and James E. Taylor, all warned a coveted finalist spot earlier this season with excellent shows you won't want to miss here in San Antonio.
Recent national finalists Prosper and Round Rock can't be overlooked. Although both missed finals at regionals earlier this season, they are two groups that have been known to show some drastic growth in the finals days and weeks of the season.
Out-of-state class A bands Archbishop Alter, Collinsville, and Hollister are all hoping to earn high marks in their class, with none of last year's class A medalists returning. Archbishop Alter has previously competed in St. Louis, earning second in class in 2015. Collinsville's last appearance at a BOA even earned the class A champion title at St. Louis in 2017, while Hollister placed third in class at this season's St. Louis Super Regional.
Westlake, from Utah, has a consistent record of finals appearances at the St. George Regional and is another out-of-state band performing in that last block Friday night. While Texas may have some of the best marching bands, they also have some of the strongest support for our-of-state bands who travel long distances to compete. Pay attention to the crowd reaction when any of the five out-of-state bands are announced.