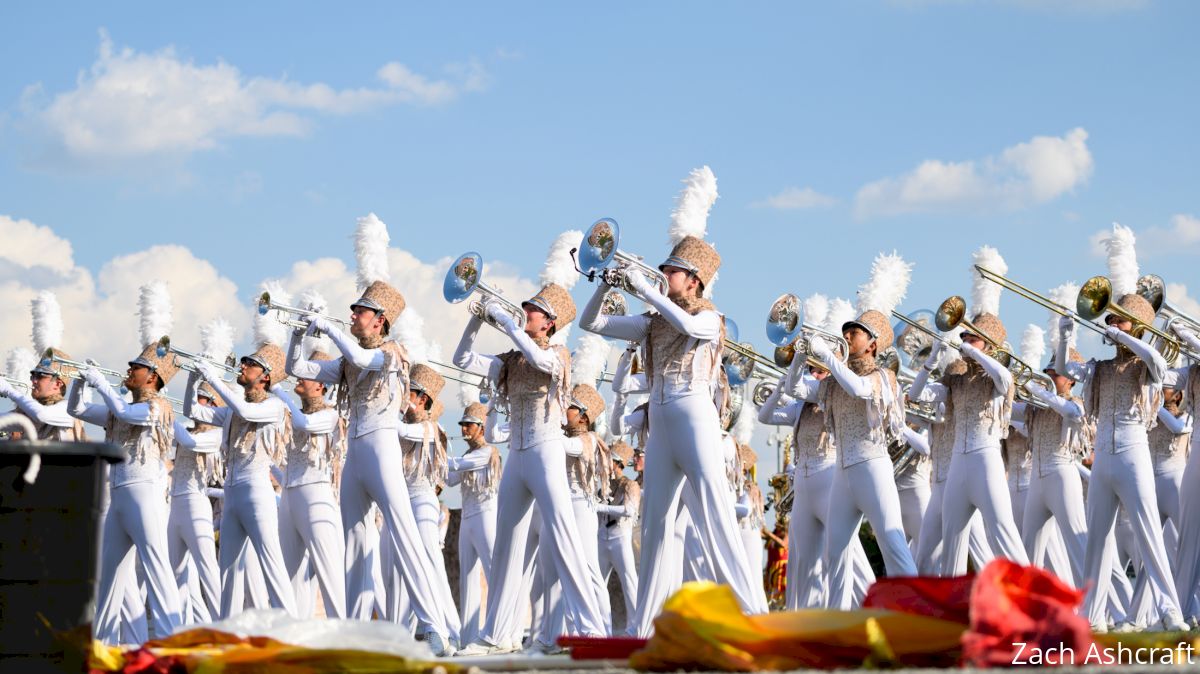 This weekend, the Alamodome will host the most intense super regional of all. Many super regional contain numerous past regional champions in finals, but this year's San Antonio Super Regional includes six different bands that have already won a regional this season as well as 34 bands that have already made finals at a regional this season. Here's a quick breakdown of some of these top groups.
Need a refresher on the competitive format for the upcoming Super Regionals? Check out our Cheat Sheet!
Watch the 2019 BOA Season LIVE on FloMarching!
Training | Events | ENCORE
Reigning regional champions dominate Friday
If you only have time to watch six bands all weekend, or perhaps are going to be busy all day Saturday, watching the champion from each of the six regionals held this season in Texas is not a bad place to start. All six will perform in prelims on Friday, with several performing back-to-back or just one band apart.
Stepping off at 2:30 p.m., John B. Alexander is the first of this contingent to perform. JBA won the McAllen Regional more than a month ago but hasn't competed at another BOA event since. So even if you did see their show way back in September, it has changed and improved so much you'll need to watch it again. If you haven't seen them before, you will certainly be impressed by the quality of this South Texas group.
James Bowie and Ronald Reagan perform back-to-back at 3:15 p.m. and 3:30 p.m., respectively. After missing finals at San Antonio last year by just 0.5 point. Bowie has had a strong start to their season, making finals at the super-competitive Austin Regional and then winning the Waco Regional on Oct. 19. Reagan won the Houston Regional on Oct. 5 and has had much success in local competitions, beating fellow regional champion Vandegrift at the Texas Marching Classic. Could this be the year they jump to the top of San Antonio? If so, you certainly don't want to miss it.
Vandegrift and Vista Ridge are the next two current champions performing in prelims. They'll step off at 5:00 p.m. and 5:30 p.m., respectively. Vandegrift's 2019 production is everything you'd expect from Vandy to the highest degree. Their unmatched quality of sound alongside pristine movement skills will hold you captive the entire show. As the only Texas regional champion heading to Grand Nats, there are some high expectations for this band, and they will certainly not disappoint.
The last of this squad of champions to perform won the Dallas Regional earlier this season and is also the reigning San Antonio champion. Flower Mound steps off at 8:15 p.m. Friday night, performing their production "Vitrify" which portrays the process of refining sand into glass. FloMo's artistic and abstract themes are always so beautifully represented on the field, and this year is no different. You'll see visual representations of sand, fire, bubbles, and finally beautiful glass creations. Oh, and you'll hear some incredible music from top notch musicians during that journey of transformation.
Out of state bands
Friday also features all five out-of-state bands in attendance. Archbishop Alter is a small class A band traveling to San Antonio all the way from Ohio. They last made the trek back in 2015, when they placed second in class. They perform at 6:45 p.m. Friday night.
The remaining four out of state bands will compete in the last block on Friday. These bands include Westlake, from Utah, at 7:30 p.m.; Collinsville, from Oklahoma, at 8:30 p.m.; Hollister, from Missouri, at 9:00 p.m.; and Vista Murrieta, from California, at 9:15 p.m.
Solid line up kicks off early Saturday
Saturday features an equally impressive lineup of outstanding bands, despite an abbreviated day of competition. Make sure to set multiple alarms, because you do not want to miss some of these early bands.
Marcus kicks off the morning at 7:00 a.m. CT, followed soon after by fellow Lewisville ISD band Hebron at 7:30 a.m. Along with Flower Mound, these bands claimed all three medalist positions at the Dallas Regional earlier this month. As they've continued to refine and perfect their shows, you can expect an even greater level of excellence, even at 7 in the morning!
After placing second at the Houston Regional, The Woodlands will certainly be as show to watch as they prepare for an upcoming trip to the Grand National Championships. The band kicks off the second block on Saturday at 9:45 a.m.
Wakeland and LD Bell are two of the huge number of bands that will be trying their best to grab one of the limited number of spots in finals. Wakeland's show which tells the story of Apollo 11 has been a hit among fans and judges alike. LD Bell's show similarly has received a lot of praise and competitive accolades, placing third at the St. Louis Super Regional two weeks ago. Wakeland performs at 12 noon, with LD Bell stepping of at 3:00 p.m.
Such an incredible group of bands
There's nothing that can be written that gives justice to each and everyone of the excellent bands competing in San Antonio this weekend, but that doesn't stop us from trying. In addition to all of these groups, we'll break down dozens of other outstanding bands that you can't miss in our super fan guide, available for subscribers only.