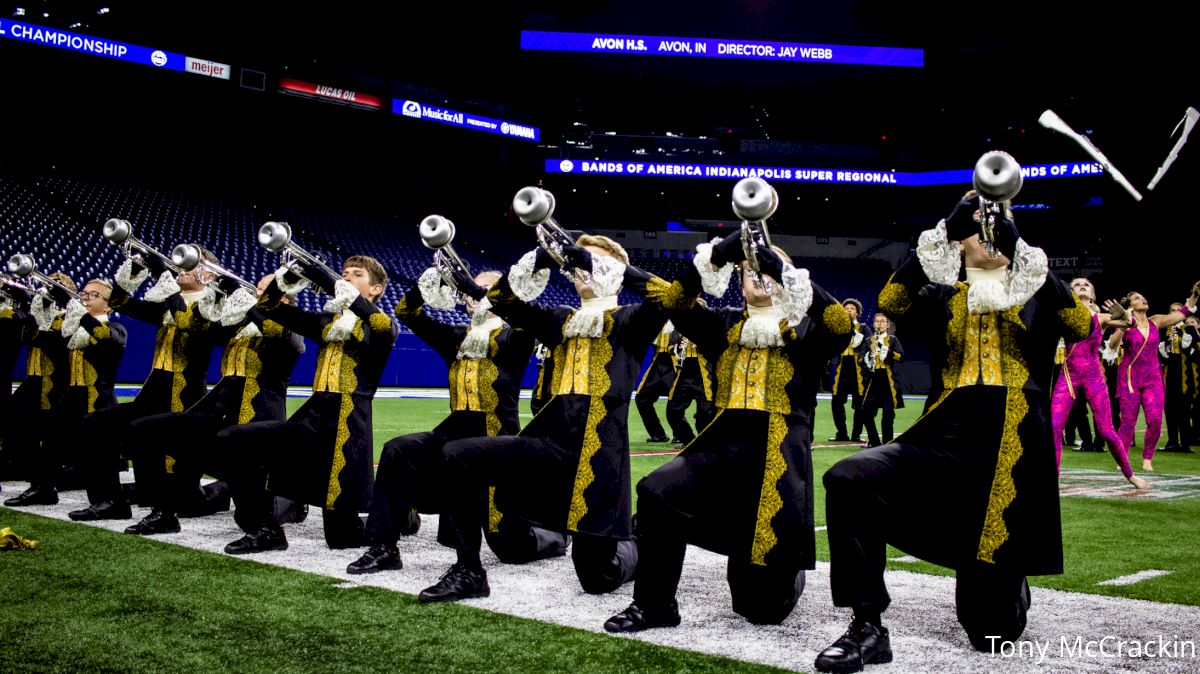 Unlock this article, live events, and more with a subscription!
Get Started
Already a subscriber? Log In
Lucas Oil Stadium played host to 84 bands from 10 states this weekend. After the conclusion of that jam-packed prelims, the top 14 groups advanced to the finals competition, with Avon being crowned super regional champion.
Medalists
In a bit of a reversal from the last few years' trend, Avon (1st, 92.20) finished ahead of Carmel (2nd, 91.50) and won all three highest achievement caption awards. Their 2019 production "unBAROQUEn" is a captivating 10 minutes of masterful music and marching. But with Carmel less than a point behind, Grand Nats isn't guaranteed to turn out in Avon's favor. Avon last won the Indianapolis Super Regional in 2016, during a year that Carmel went on to win Grand Nationals.
Also finishing above the 90-point cut off was Blue Springs (3rd, 90.70). With a trip to Macy's Thanksgiving Day Parade just a month away, this was the final competitive appearance for Blue Springs, and it sure was a memorable one. Bold mostly white uniforms like the ones they've worn the last two years can be quite a liability because they don't hide any mistakes. But for Blue Springs, the bold uniforms just show off the excellent training and achievement these students have.
Finalist Breakdown
With some of the coolest uniforms all weekend, Lincoln-Way (4th, 87.975) was such a joy to watch perform in finals. Their uniforms, which featured textured pink and purple on the front and green on the back, created an awesome effect anytime the band turned around. They certainly capitalized on that effect, having the band constantly change from playing front field to backfield and vice-versa — a challenging task even for the best marching musicians.
Homestead (5th, 86.90) and O'Fallon Township (6th, 86.525) were super close in finals, with O'Fallon narrowly scoring higher in both music performance and visual performance. Homestead's have point lead in general effect was enough to more than make up that deficit.
Usually, there is a large gap between 7th and 8th place simply because of the dynamics of the top half/bottom half performance order for finals. But here in Indianapolis, that gap was almost nonexistent — just a single tenth. Lockport Township (7th, 86.00) placed as high as fourth in visual, tying Lincoln-Way in that caption, cementing their spot in the top half of finals. Fishers (8th, 85.90) delectable candy show earned its top marks in the music caption, where they were ranked fifth.
Lawrence Township (9th, 85.40) and Mustang (10th, 84.05) were the two shows that seemed to get the largest crowd response in Lucas Oil Saturday night. From the start both shows had the audience hooked, MPLT did that through a stunning theatrical performance featuring some incredible singing, dancing, and of course instrumental music. Mustang's appeal was a bit different — large inflatable T. rex suits. On first glance it may seem like a cheesy joke, but Mustang struck the perfect balance between humor and poise while integrating this particular non-traditional element into their show.
With a stunning opening visual moment that really grabbed the audience's attention, it's no surprise that Castle (11th, 83.55) earned their top marks in the visual caption. Their ninth-place finish in visual ranked them above both MPLT and Mustang in that particular caption.
The last three bands in finals were separated by just over a half a point. Center Grove (12th, 81.75), Brownsburg (13th, 81.50), and North Hardin (14th, 81.20) each had their own strength finals night, and the scores reflected that. North Hardin had the higher music scores among this trio, while Center Grove was stronger visually, and Brownsburg received the higher GE scores.
Marian Catholic was the first band out of finals, finishing just 0.15 points behind Brownsburg and North Hardin, who tied in prelims. Marian finished as high as eighth in visual effect. Centerville, Prospect, Lakota East, and Ben Davis also broke the 80-point threshold in prelims, finishing just shy of a finals spot in an extremely challenging year.
One last non-finalist band that deserves a shout out is Grove City. The band finished 27th overall but posted some impressive music numbers across the board. The band was ranked fifth, ahead of Carmel, in individual music, and eighth overall in the music performance caption.