2019 BOA Indianapolis Super Regional Championship, pres. by Yamaha
Lawrence Township's Singers Take Command Of The Stage In Lucas Oil
Lawrence Township's Singers Take Command Of The Stage In Lucas Oil
Two band kids-gone-singers took over the dome in Lucas Oil Stadium during Lawrence Township's preliminary Super Regional performance. Here's their story.
Oct 26, 2019
by Jeff Griffith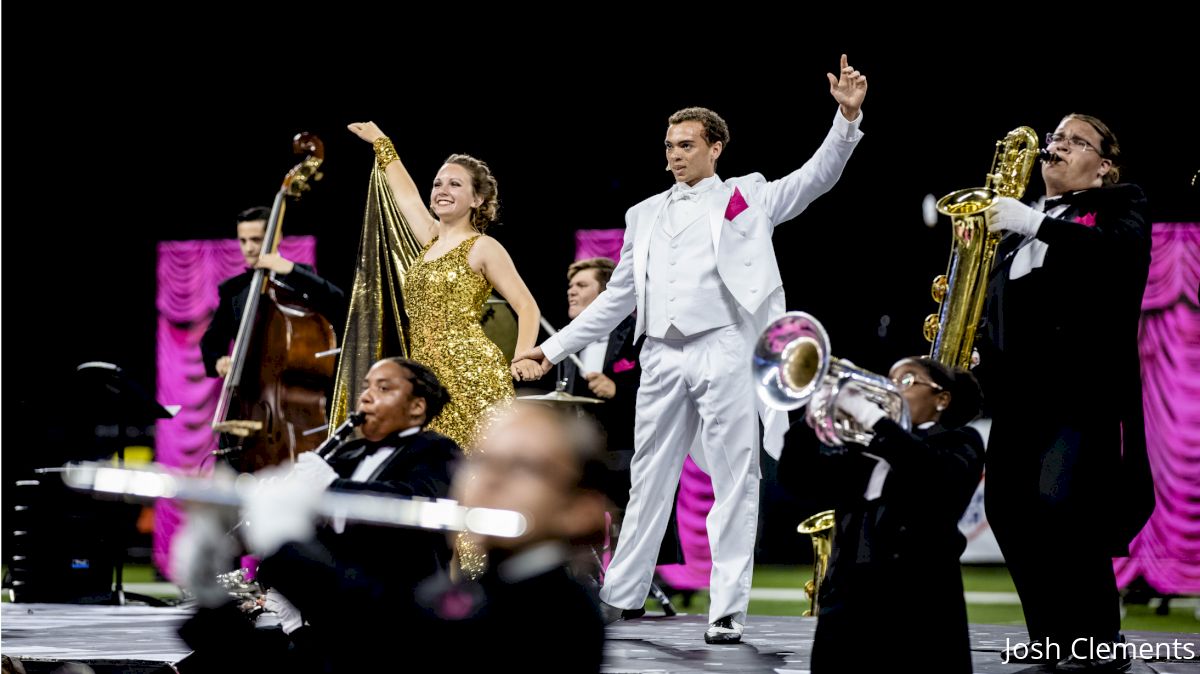 Unlock this article, live events, and more with a subscription!
Get Started
Already a subscriber? Log In
"We knew we had the singers."
Matthew James and his fellow band directors at Lawrence Township High School were more than familiar with the kind of diverse musical talent they had at their fingertips. When an energetic, jazzy show concept began to materialize for the band program's 2019 season, it only made sense to put some of these resources to work.
Enter Ella Greiwe and Evan Vaughan.
"These two are fantastic," James said. "We knew we had the talent, so we just had to write around it, and they're great, both spectacular."
For Lawrence Township, Grewie and Vaughan run the show. That's not a commentary on leadership or popularity, that's just the true essence of their characters within the band's 2019 production, "Harlem at Midnight."
Basically, Lawrence Township's show is a party, and they're the hosts.
The show centers around the Harlem Renaissance of the 1920s, and its inspiration was multifaceted from the get-go.
According to James, the idea was to develop a show that not only challenged the members musically, but also provided a learning experience on a different culture.
"We thought this would be a really cool thing, because it was a very diverse time and a very special time in New York City," he said. "It's a great history lesson, a great music lesson, and just a whole lot of fun."
It's easy to get a good sense for the show's setting even from before the first note; you look around the field, and you're in a night-club, surrounded by bright colors, members dressed in suits, and a tall stage filled with jazz musicians and microphones.
And that's where Greiwe and Vaughan were making their living — center stage.
"My big role is sort of like the ring-leader of the whole group, where I'm kind of leading the jazz show as if we were in a party during the Harlem Renaissance," Vaughan said. "So, I'd be the one up on the stage, leading the band and conducting and just acting a fool."
The two of them are essentially featured as vocalists and dancers on stage throughout the whole show; for the most part, they're the focal point of each movement, and are at times accompanied by a handful of strong soloists.
Both attested this is a style of music that suits their voices well. And it showed in their preliminary performance at the BOA Indianapolis Super Regional on Friday, October 25th.
"I used to sing in my jazz band," Greiwe said, "So, I kind of knew that I have a jazzy voice, so they decided that I would be a good role for this part."
And beyond the roles they've been given, they're both "band kids" by nature, too — they're not only band kids, obviously, but Greiwe has marched multiple years on flute, and Vaughan several on saxophone.
Vaughan, however, also had the opportunity to fill a similar lead role in Lawrence Township's 2018 show, "Livin' on Royalty Street," so he's no stranger to having to command the 100-yard stage in a venue as large as Lucas Oil Stadium.
He's fully comfortable with it; to him, it perfectly fits his personality.
"I'd say it fits me very well," he said. "I'm a very theatrical person, all the time, so it comes naturally."
"He totally is comfortable on stage," James added. "He takes instructions, he's very comfortable in his space, and he just has a really good stage sense."
The show goes so far beyond the two centerpieces, though, and you can tell it's a blast to perform for the entire band. They're well integrated into the story of the show; they're interacting with the audience and substantially adding to the energy, excitement and overall vibe of the show.
And that was pretty much the idea from the start.
"They're rocking. It's a very difficult style, to get that 20s jazz, and they're just eating up and spitting it out," James said. "They're loving it. They're just having a great time with it."