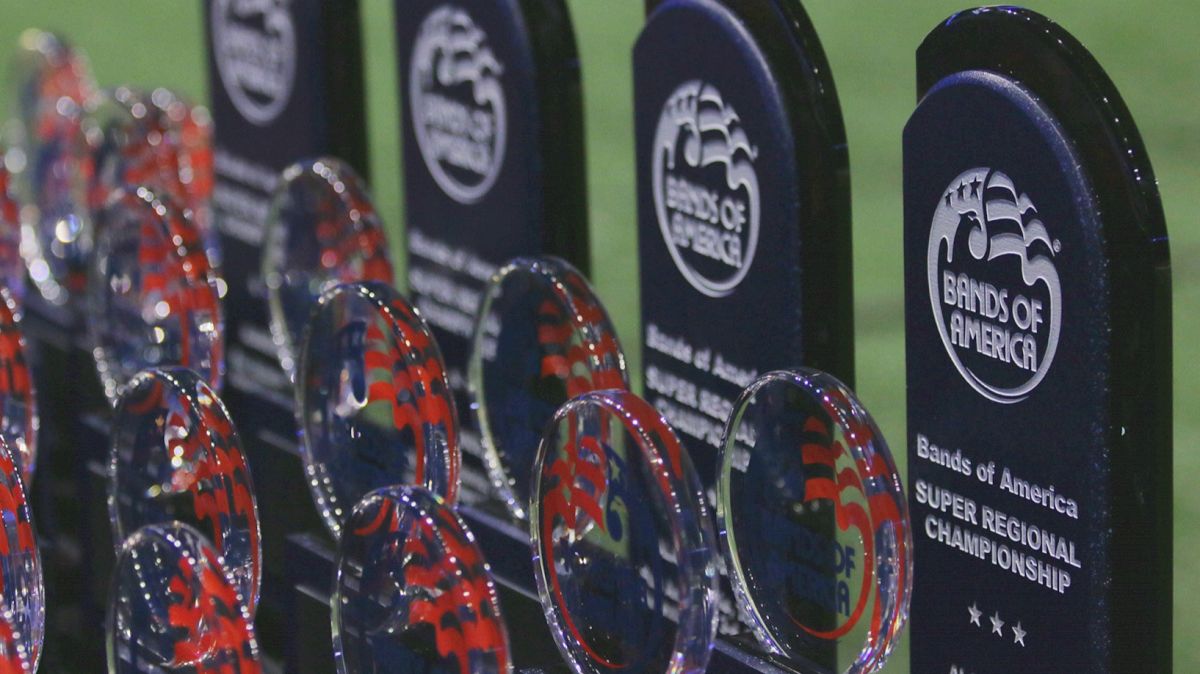 Unlock this article, live events, and more with a subscription!
Get Started
Already a subscriber? Log In
Group-by-group analysis and commentary of the 2019 BOA St. Louis Super Regional finalists by Jeff Griffith.
Need a refresher on the competitive format for the upcoming Super Regionals? Check out our Cheat Sheet!
Watch the 2019 BOA Season LIVE on FloMarching!
Training | Events | ENCORE
8:30 PM ET | Stephen F. Austin (TX)
I was very intrigued off the bat when I saw Stephen F. Austin's list of repertoire selections for "Dare to Dream" — pieces like "A Million Dreams" from The Greatest Showman and "The Impossible Dream" from Man of La Mancha really jumped off the page to me — and the arrangements really held up. "A Million Dreams" in particular was incredibly pretty, opening with a beautiful flute solo before welcoming a small ensemble of brass instruments for a build into the opening impact. This show has a very eye-catching array of color as well, with a line of brightly-colored props stretching from the top-left to bottom-right corners of the field. "The Impossible Dream" is one of my all-time favorites and it too had an outstanding solo, this one played on clarinet with very lyrical front ensemble passages behind it. But man, the ballad impact had to have been the highlight of the show for me. It's hard to not do that song well, but Stephen F. Austin's rendition was particularly gripping.
8:45 PM ET | Jenks (OK)
"Business as Usual" seemed like a very interesting concept when I first read the title, and Jenks interpretation certainly makes for a cool design. Jenks' pre-show is definitely one of the more creative I've seen, as the voice of Dan Potter starts the show with the kind of radio sequence you'd hear on your morning commute. From there, the entire band, sporting black suits, claps along to "Taking Care of Business" before the show officially begins. I was particularly struck by Jenks' opening statement, which sets the tone for a very energetic show. The show itself definitely has a very intentional mid-1900s vibe, which is hammered home not only in the costuming but in the sounds of Leroy Anderson's "Typewriter." "Run the World" by Beyoncé is certainly a change of pace near the back half of the show, though, but it's a fun one all the more, as it transitions directly into Otis Redding's "Respect." This show is really fun, really upbeat, and really creative — all tenants of a great high school band show.
9:00 PM ET | Lake Travis (TX)
When hearing the announcement of Lake Travis' show details, my ears lit up when I heard "The Eternal Knot" would be a part of this show — if you're unfamiliar, look up the ballad from Santa Clara Vanguard's 2011 show, it's one of my all-time favorite. Regardless, was really a cool design from start to finish; it definitely made you think about the depth of the concept, "Eternal." The field is littered with staircases as props, which are used very effectively. Goodness, Lake Travis' opening impact comes out of nowhere and slaps you in the face; it's powerful. From the ballad, as expected, really stuck out as my favorite part of the show. It's just such a powerful, pretty piece of music and the arrangement really does it justice. The final movement features the introduction of a handful of long, light blue fabrics that connect the props to one another and add a really nice pop of color to an energetic closing push.
9:15 PM ET | Bentonville (AR)
Bentonville has some really interesting props, the most notable of which is a.big square yellow tarp that sits behind a round black stage in the middle of the field Also the 50, right behind the front ensemble there's what looks like a tall gate with a black curtain covering its opening. "Grandioso" features a lot of good, challenging classical pieces, including two by Shostakovich. I was particularly struck by some of the woodwind playing in the show's first movement, including a really stellar duet between a clarinet and flute. There's a lot of trade-off of really intricate playing between brass and woodwinds in the opener, and it definitely impressed me.
9:30 PM ET | Southlake Carroll (TX)
While "Nomadic" is not necessarily a "dark show," this is certainly the darkest design we've seen tonight; it opens with low, rolling petal tones from the synthesizer before a bassoon — yup, first time I've personally seen one of those in a marching band show — plays the melody of "Rite of Spring." I have to say, I've heard "Rite of Spring" done a lot in the marching arts and it's one of those pieces that can get a little old, but I really loved Southlake Carroll's opening arrangement of it. It's hard to describe what was different about it, but it definitely had a unique sound that I liked a lot. Visually speaking, this show features some cool props, including a set of black risers in the front of the field that have square splashes of bright color featured throughout them.
9:45 PM ET | Camdenton (MO)
Camdenton is probably the first band that isn't using any music I'm personally familiar with, but that didn't detract at all from what was a very entertaining show, titled, "Transformation." As you'd expect based on the title, the theme is most notably developed visually, but it's definitely got a nice and entertaining "soundtrack," if you will. Set to a series of organ chords, this show had a really ethereal, almost haunting opening, as members pushed tall props out across the front sideline, quite slowly, almost like they were doing it grudgingly. The props are integrated in really interesting ways to divide and stage the field differently throughout the show. In terms of specific moments, though I particularly enjoyed the ballad movement; the arrangement was really beautiful and it featured the props all changing from black-and-white to vivid, bright colors across the field, which was a very cool effect. It was really interesting to see the way the props drove the show; when all was said and done, they ended up lining the back sideline, just the opposite as they had at the show's outset, still displaying their full color.
10:00 PM ET | Rosemount (MN)
"Transcend" starts with all of Rosemount's marching members lining the entire outline of the field while one color guard member dances near the 50 yard line — members slowly follow-the-leader their way into the field, which makes for a really cool overall visual effect to start things off. The first musical moment of the show is a really cool one, featuring a group of 10 french horn players, backed by powerful passages of timpani playing, before the show builds into a strong opening impact. The thing I was most impressed with about Rosemount was featured most heavily at the end of the second movement — really intricate movement with some not-so-easy passages of music. The moments leading up to the ballad feature some really difficult sequences of drill, but it was executed really well both visually and musically. Rosemount's closing movement also had a really incredible woodwind feature, that was probably the most impressive musical moment of the show, to me.
10:15 PM ET | Broken Arrow (OK)
Well, I couldn't help but be intrigued when I saw that this show was literally titled, "Yee Haw," and it absolutely lived up to the hype. The stage is set from the start with shades of Copland's "Promise of Living," which creates the feel of a quiet morning on rural farmland. The field's setup backs up that aesthetic, with an array of bright red fences lining different parts of the field. The show was about as fun as you'd expect, with plenty of upbeat moments and a little bit of really well-executed and well-arranged "Magnificent Seven" going on. One part of that movement really struck me; a trombone solo played the melody while the flute section played some truly wicked sixteenth-note runs behind him. The movement following, however, featured a full-ensemble dance break — the kind you'd witness at a hoedown — and that was something to behold. All throughout, though, Broken Arrow was so impressive, especially musically; this band has some really tough passages of music that they absolutely nail. Honestly, my favorite musical moment may have been the ballad — it's a little less intricate, but it's a beautiful arrangement of "Desperado," and I enjoyed it thoroughly.
10:30 PM ET | Union (OK)
Albeit untitled, Union had such a creative show, and it was pretty clear what they were trying to portray from the get-go. Most of the band starts the show set up in chairs on risers, wearing red sport coats and bow ties, set up like an orchestra, and they all begin the pre-show by tuning — quite loudly. "Young Person's Guide to the Orchestra" then opens the show. From there, Union kind of deconstructs the concept of the orchestra that they opened with; chairs and risers become strewn about haphazardly, and the "Young Person's Guide" melody turns minor. Union's ballad was really cool; it was definitely one of the more unique versions I've heard of a pretty heavily-used piece, Elgar's "Enigma Variations." The arrangement featured bongos, heavy synthesizer, and other soundscapes not often associated with the piece. It still culminated in a resounding, pure playing of the recognizable melody, which made for a really nice ballad impact — my personal favorite part of the show.
10:45 PM ET | O'Fallon Township (IL)
Woah, I was really struck by the opening impact of O'Fallon Township's show; it's so powerful. Musically, this show was really fun to listen to throughout, I didn't personally know any of the music but it had some really catchy, really strong, and really intriguing moments throughout. Honestly, my personal favorite movement had to be the ballad; it was another moment of really punchy music, and brought the entire horn line together into the front of the field, which made for a really cool impact. Visually speaking, this show utilizes an array of red cubic props to develop the concept of "Architecture in Motion;" the cubes are utilized differently throughout the show to make different displays, whether it be columns, scatters, etc. This was definitely a really entertaining show despite maybe not being very easily accessible conceptually or having music I knew very well.
11:00 PM ET | Coppell (TX)
This show's title, "Nouveau Realisme," which stands for "New Realism," is plastered across props on the front sideline. Most of the band opens the show wearing black shrouds and filling the entire field for a passage of choreography while a beautiful woodwind duet sets the stage. The marchers keep their covers on for the show's strong opening statement, which makes for a very cool audio-visual moment. This show features music by one of my favorites, Alexandre Desplat, so I definitely enjoyed hearing some of that. The ballad in Coppell's show was another really pretty one, with a really nice duet between a flugel player in a black uniform and a trombone player wearing all white. Beyond that, though, Coppell had one of the most powerful closing statements of the night, with some really impressive mid-voice runs littered within it to boot. Really nice show all around from Coppell.
11:15 PM ET | L.D. Bell (TX)
"Break AWAY" has a very interesting opening to it; the full band surrounds a large tarp at the center of the field while dissonant choral chords emerge from the front ensemble. From there, the opener has a really cool driving build to a really tight first statement. I was really impressed by how balanced the entire horn line was rhythmically and dynamically in this opening movement, and that really carried throughout the show. They did such a good job of rising and falling as one musical unit. One really cool visual effect — the tarp at the middle of the field was actually several small folded tarps which were pulled apart to make several different types of props that filled the field. Also, wow, what a great closing impact. Full of energy and punch, and once again, executed so well musically. Once it was said and done, a beautiful flute solo brought the show to an end. Awesome show overall.
11:30 PM ET | Blue Springs (MO)
Blue Springs certainly has one of the most eye-catchingly recognizable looks; the all white with pink accents really stands out on the field and looks super clean. The show its titled "Land of Make Believe," so it's certainly a bit abstract, but in a very entertaining way. As you'd expect, the Chuck Mangione song of the same name is certainly featured in the show, first as a lyrical melody traded between a trumpet soloist and euphonium soloist to open the show. "Pure Imagination" is also a featured piece of the show, and its melody comes in after the solos to build the energy towards an opening statement. The two songs couple together really nicely, and the opening impact of "Pure Imagination" was so powerful. And if those two songs weren't enough, the addition of "The Impossible Dream" as a ballad was another really memorable moment, not to mention that all three of the aforementioned songs' melodies resurfaced in the closing moments, which is something I always love. On a side note, I was really impressed by the visual precision of this group, both as a whole and on an individual level, Blue Springs stunned me with its level of cleanliness.
11:45 PM ET | Haltom (TX)
This show is very colorful and very energetic; it's called "El Matador," and each of its props features two symbols, one bright pink and one bright orange. Those colors are pretty much featured, with black as a sole neutral, across all of the band''s costuming and prop designs, which makes for a really eye-catching overall look. Haltom really slaps you in the face with sound from the start, which is a great attention-getter for an upbeat show. Despite how much energy was packed into most of this show, the ballad was one of the more memorable parts. That said, the closer was incredibly exciting and definitely left me loving this show. Goodness, that ending had some serious punch. Haltom did a really good job in design of capturing the spirit and feeling of the "matador" concept without necessary utilizing obvious, low-hanging-fruit visual cues, and I thought that was really impressive.
12:00 AM ET | EXHIBITION: Union City (TN)
"Inside these Walls" was certainly a cool show from a visual perspective especially, utilizing several clear "wall" props to box in parts of the field at different points in the show. Union City also had some pretty cool music selections, most notably Pink Floyd's "Another Brick in the Wall," which made for an energetic and recognizable inclusion into a very entertaining repertoire. One of the more memorable parts of this show was definitely its use of soloists, most notably a trumpet and baritone who played off of each other well in the show's ballad.