Unlock this article, live events, and more with a subscription!
Get Started
Already a subscriber? Log In
With another Bands of America regional down in the Lone Star state, another Texas band earned itself another resounding victory.
This time—the band? Vista Ridge. The location? Midland. The margin? 3.030 points.
But plenty of intriguing competitive races abounded at the deep, 24-band contest in west texas. All the takeaways from the Bands of America West Texas Regional Championship:
Finals Standouts
So, Vista Ridge's victory wasn't exactly a close one, with the winning score being an 87.100 and a complete sweep of the captions. The other two spots in the top two went to Timber Creek (2nd, 84.070) — which put up an impressive statement in West Texas, jumping from third-place in Prelims — and James Martin (3rd, 83.200) which scored as high as second in visual performance.
James Martin's bronze finish definitely wasn't uncontested, though, with Summit just over half a point off the pace. With a score of 82.650, Summit took fourth place, while also earning the event's AAA classification championship title.
Visiting from New Mexico, Clovis rounded out the top five with a score of 81.850, fending off Wylie East (6th, 81.300) thanks to strong scores in music and visual performance captions.
Two-and-a-half points separated sixth from seventh, which saw Del Rio earn a score of 78.800. Del Rio jumped two positions from ninth in Prelims, and scored as high as fifth in the general effect caption.
The next two bands, Mansfield and Granbury, finished in a dead tie for eighth place, both earning scores of 78.200. Granbury stood out in visual performance, earning fifth place, but a strong lead for Mansfield in general effect kept things tight between the two.
Permian rounded out the pool of 10 finalists with a final score of 77.500, and its quest for a finalist position was surprisingly not a close one; Permian lead the next closest scorer by more than four points in Prelims competition.
TOP DOWN: Best Drill Moves From BOA West Texas Prelims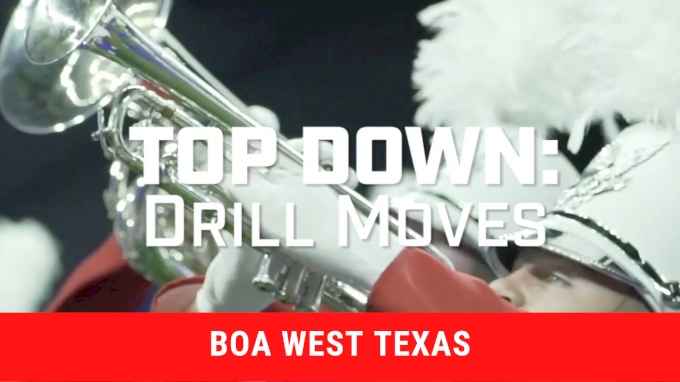 Unlock this video, live events, and more with a subscription!
Get Started
Already a subscriber? Log In
Additional Bullet Points from the recap
Plenty of close finishes unfolded outside of the top 10. Some of the most notable:
There were two other ties in Prelims, as exactly one point separated five different bands from 15th place to 19th place. Abilene led the quintet of competitors in 15th with a 65.500, and half a point behind them were Plainveiw and Midland, both tied at 65.000. A half-point behind that, two more bands earned scores of 64.500 — Odessa and Lubbock — although the former incurred a penalty of 1.8, which effectively pulled it down from 14th place. Lubbock also scored as high as 14th in visual performance, while Odessa earned 13th in general effect.
Frenship, which took 12th place with a total score of 70.200, posted very impressive numbers in music performance, taking seventh place in that caption.
Plainview also took home top marks in the AA division, while the same honor for the 'A' class went to Pecos (22nd, 61.350).