Unlock this article, live events, and more with a subscription!
Get Started
Already a subscriber? Log In
Despite overwhelmingly hot temperatures during prelims, bands from all over the Dallas/Ft. Worth Metroplex brought their best to Pennington Field this weekend. Flower Mound was named regional champion and won all three of the caption awards.
Check out photos of all bands in prelims HERE!
1. Flower Mound H.S., TX — 86.700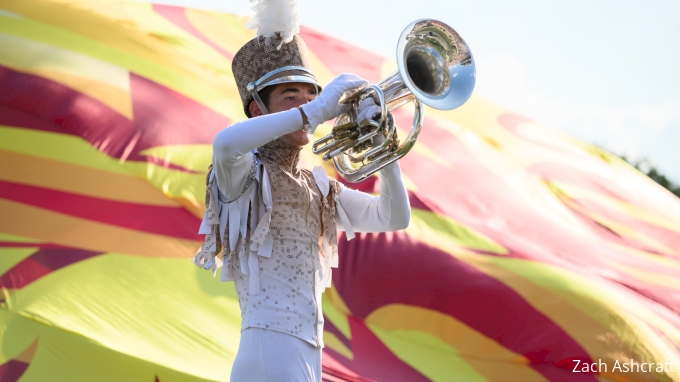 This is Flower Mound's fourth time winning the BOA DFW regional. The band previously won in 2015, 2016, and 2018. Those three seasons are also the three seasons that FloMo has won the San Antonio Super Regional, which sets a high bar for this year's show. Named after the term for turning sand into glass, "Vitrify" visually portrays this transformation quite effectively. The band starts in uniforms that resemble sand, then after large fiery fabric surrounds the members, they are revealed in new uniform tops that resemble glass.
2. Hebron H.S., TX — 84.450
Winning the music caption in prelims, Hebron continues to demonstrate an incredible level of musical excellence. Each section is challenged with difficult technical passages, often played while marching or dancing. As they continue to refine and clean, this show will certainly be a contender with the top dogs at Grand Nationals this fall.
3. Marcus H.S., TX — 83.400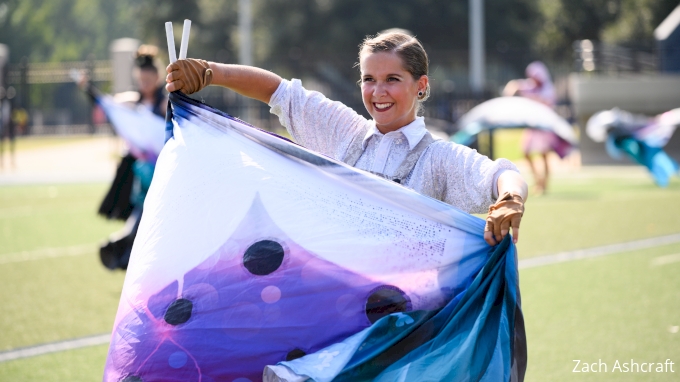 Solidifying Lewisville ISD's hold on the medals, Marcus earned a narrow third place over Keller. The band was ranked first by the on-field music judge and second by the on-field visual judge, highlighting the ensemble's excellent training. Marcus's show "Unwritten" featured color guard characters from all of your favorite stories, which brought some colorful variety to what can be a very uniform activity.
4. Keller H.S., TX — 83.100
Keller also received a first place ranking, theirs coming from one of the music effect judges. Keller's show "Fearless" was a bold display of excellence, including many soloists and small ensembles highlighted on a big stage right behind the front ensemble.
5. LD Bell H.S., TX — 82.350
"Breakaway" was a stunning and bold illustration of that very concept. The students started with arms interlaced in the middle of the field, surrounding a huge tarp, then began to disperse throughout the field, while also breaking away parts of the tarp. The music was exciting, fast, and in your face!
6. Wakeland H.S., TX — 79.000
Just over a point apart, Wakeland and Coppell earned a nearly two-point gap over the remaining finalists. Wakeland took sixth place with their show about landing on the moon, aptly titled "11". Featuring suspenseful voiceovers and thrilling music, they held tightly the audience's attention the whole show. They even had a big spaceship prop that moved across the field, through the stars, and ultimately to the moon.
7. Coppell H.S., TX — 77.950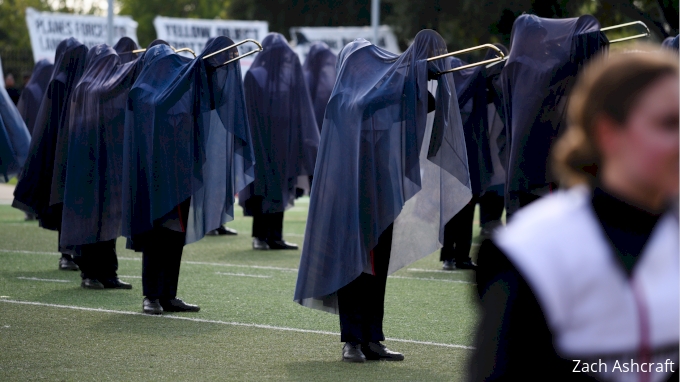 Coppell was one of the few groups all day with no props on the field, a significant departure from their previous shows. Instead they were able to cast a dark ambiance over the whole field with pieces of slightly transparent veiled fabric that was attached to each student's helmet. The students started the show completely covered by the fabric, giving the appearance of a robe or cloak, and even played the opening notes still hidden. Then, with a sudden change, the band pulled back the veils, revealing their faces and a huge sound.
8. Waxahachie H.S., TX — 76.000
Waxahachie had the most significant improvement from prelims to finals of any group. The band's eleventh-place finish in prelims normally wouldn't advance to finals. However, because Owasso chose not to compete in finals, Waxahachie was invited to compete in finals. They took advantage of that opportunity to prove they are a clear finalist caliber band.
9. Timber Creek H.S., TX — 75.050 and 10. Keller Central H.S., TX — 75.050
Of course, if you had to pick a group to tie with, it would be one from your own district. That's what happened for these two Keller schools. Timber Creek earned the higher placement because they had the higher GE total, while Keller Central actually won more judges than Timber Creek.
Class Champions: Krum H.S., TX and Forney H.S., TX
Krum and Forney were invited to perform class champion exhibitions in finals. Forney earned a decisive class victory, including all three caption awards, in prelims with their show about breaking boundaries. Krum's patriotic show also swept captions in prelims with beautiful arrangements of familiar music.