2019 WGI Percussion West Power Regional
WGI West Gives Insight Into World Championship Possibilities
WGI West Gives Insight Into World Championship Possibilities
Catch up on some of the most important things to take out of the past weekend's WGI West Power Regional—penalties, Chino Hills, & more.
Mar 26, 2019
by Jeff Griffith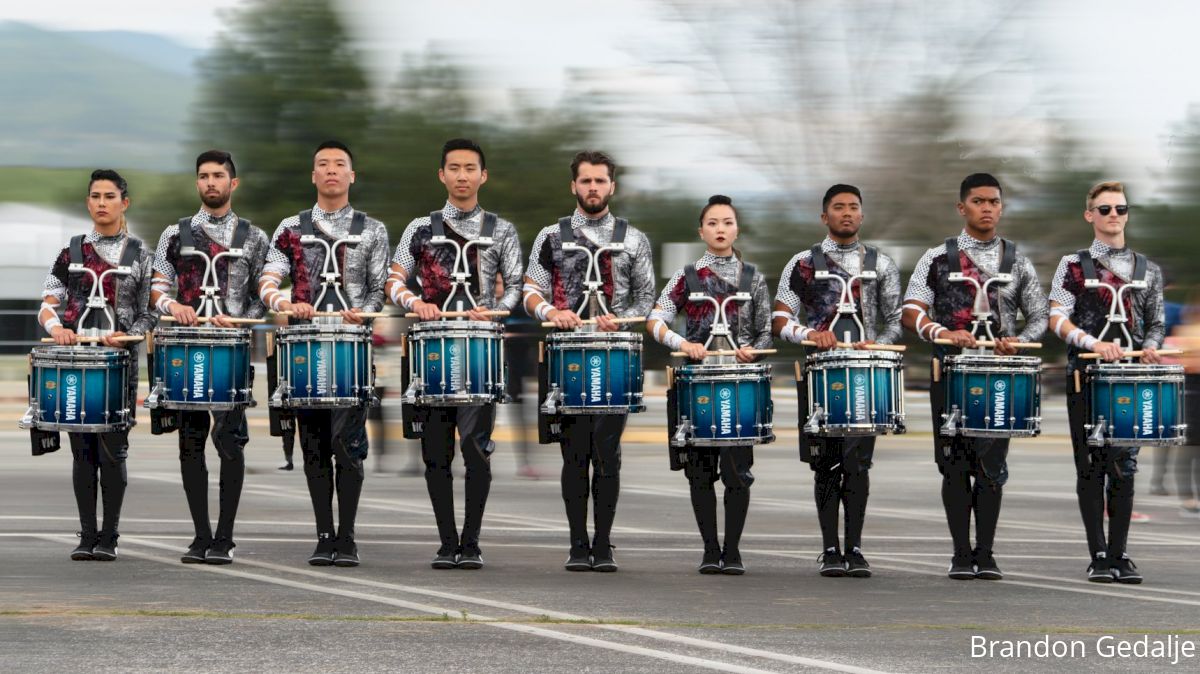 Unlock this article, live events, and more with a subscription!
Get Started
Already a subscriber? Log In
In one of the most heavily-attended and competitively-intriguing events of the WGI 2019 percussion season, nearly 70 ensembles converged on San Bernardino for the WGI West Percussion Power Regional at CSU San Bernardino.
Storylines are everywhere in this event, but here are some of the key takeaways to get ready for when these West Coast powers make their way to Dayton in a few weeks:
PIW elites set up intriguing finals push
Okay, so here's the short version: Pulse Percussion, Broken City and RCC all finished in the top four at last year's finals and were separated by just a point. At this weekend's regional—a 4.55-point penalty against Broken City aside—they made up the top three, separated by a total of about two points.
After Broken City's penalty, Pulse earned first place in the final scores, earning a score of 93.500, while RCC took second with a 91.725. Broken City, despite being given third place with a score of 89.325, earned the event's top raw score of 93.875.
Even still, that's just .375 ahead of Pulse, which held the edge in music while Broken City earned top marks in both effect captions, as well as visual. As expected, these two and RCC—the defending champs, of course—brought it this weekend.
Their fellow World Class competitors put up some impressive numbers, but there was a clear gap between the top three and the next four.
Having now been able to watch all three of these groups, as well as Rhythm X and Music City Mystique, the other two groups who finished in last year's top five, I can say with confidence that it's going to be an all-out brawl for medalist positions in Dayton, and that's not even factoring in other talented groups like Matrix, Infinity, United, STRYKE, etc.
Chino Hills continues reign over Scholastic World
Last year, Chino Hills' dominance of PSW competition—manifested in the form of five gold medals in the last six years—grew to new heights, as the group took first with a record-high score of 98.775 and a lead of about 1.6 points over the entire field.
At this weekend's event, Chino Hills was matched back up with two of its fellow top-four finishers from last season, Arcadia and Ayala. Those two, and Darmouth, are the only groups who finished within five points or less of Chino Hills at last season's finals.
Once again, no one really came close. And that's saying something; I got to see all of these PSW groups this weekend, and they're all quite good.
Even still, the gap was noticeable in the final scores. Chino Hills opened up a lead of 1.35 in Saturday's prelims, before pushing its advantage to 1.675 in Sunday's finals. The only caption Chino Hills really lacked in was visual, where it took second to Arcadia (2nd, 92.700). Ayala remained in striking distance, in third with a score of 91.675.
El Dorado, Los Alamitos on top of deep PSO field
Okay, if watching this regional taught me anything, it's that the West Coast has a lot of talented scholastic groups, even beyond the World Class ranks, that no one's really going to get to see at World Championships.
The competition was especially tight in Scholastic Open, and for good reason. These groups are really good.
One of the many PSO ensembles that won't be making the trip to Dayton, El Dorado, took first with a score of 91.725. Los Alamitos—one of the few that will head to Dayton—earned second with a 91.000.
Arcadia, another one of the PSO groups that will compete at the World Championships, took 7th with an 86.0125, having entered the weekend as the only returning Scholastic Open finalist competing in San Bernardino.
With that in mind, it'll be interesting to see how the likes of Arcadia and Los Alamitos fare next month in Ohio as they look to represent the Golden State's Open Class contingent.