Unlock this article, live events, and more with a subscription!
Get Started
Already a subscriber? Log In
There was a lot of great guard going down in Las Vegas this weekend, and excellence was the name of the game. Here are some of the highlights.
Scholastic A
Rancho Cucamonga HS came in on top over Palm Desert Charter MS with a score of 91.300 to Palm Desert's 90.465. And that score was well deserved, as Rancho put on an excellent program with "The Eulogy."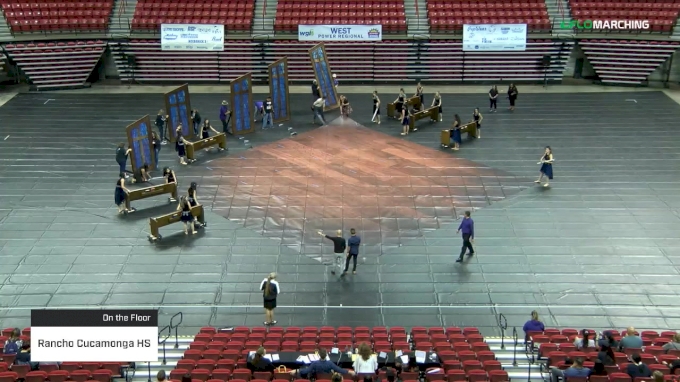 Unlock this video, live events, and more with a subscription!
Get Started
Already a subscriber? Log In
Due to the current state of copyright law in the US, we are unable to provide sound on videos post-performance.
The set pieces include several very nicely crafted stained glass windows and six very heavy church pews. Rancho's performers also move very well and sell their show, which can be hard to do in A Class because the sheets tend to tell performers to focus on equipment and movement skills rather than acting.
After this weekend's score, Rancho Cucamonga heads to Dayton in the third seed, right behind Lockport Township and East Lincoln HS, so they're positioned to medal, this year.
Independent A
In Independent A, Icon Winter Guard took the gold with their program, "Break Some Ice," and a score of 88.895.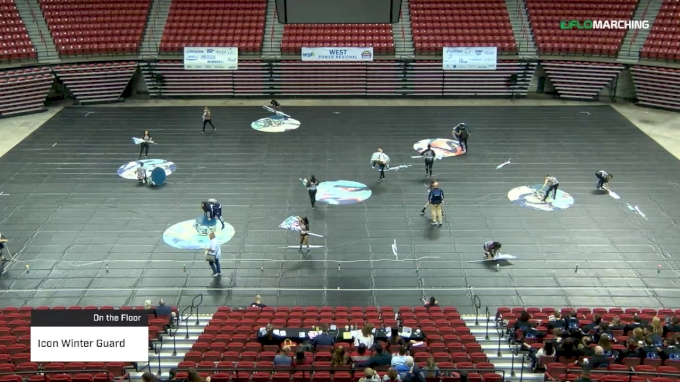 Unlock this video, live events, and more with a subscription!
Get Started
Already a subscriber? Log In
They do some interesting things with staging and floor design, relying upon six smaller circular tarps upon which sit circular platforms, rather than a single large image. These serve as "stages" for individual performers, such as the rifle line, to perform nicely written work that requires performers to balance atop these platforms and spin in unison.
There's some very nice legwork in the rifle writing, and these kids have great hands when it comes to catching their equipment. Icon heads into Dayton at the top of Independent A, followed closely by Malachi Independent.
Scholastic Open
Arvin HS came in first with a score of 91.500 presenting their program, "Yūgen."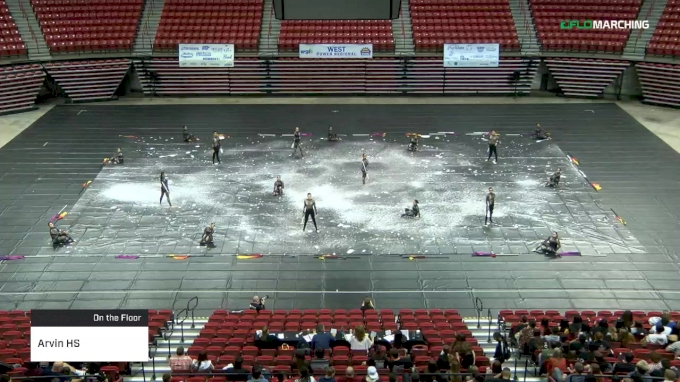 Unlock this video, live events, and more with a subscription!
Get Started
Already a subscriber? Log In
They have a really great floor design—a picture of a galaxy in greyscale—that is very nicely opposed by purple and orange flags designed to look nebulae and solar flares. It's a nice juxtaposition, and the splashes of color really serve the design well.
On top of that, these kids are PHENOMENAL performers and really sell the show, in terms of their ability to emote through the equipment work and reach the audience.
Arvin heads into Dayton with quite the weekend behind them, and the highest score received in Scholastic Open, so hopes are higher than ever.
Independent Open
ORIGINS, took first with a score of 90.550 with their program, "Though I Walk."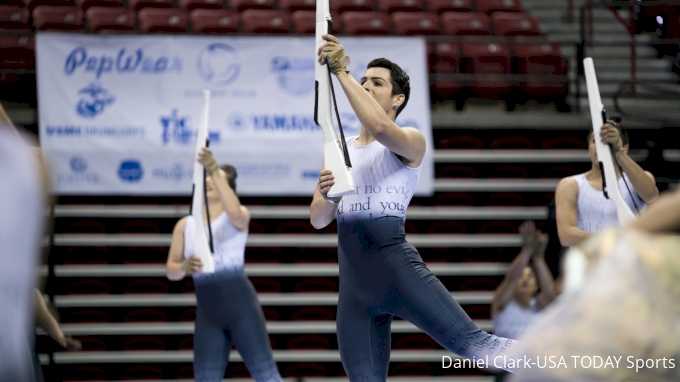 This program, set to Chopin's "Piano Sonata Op. 2, Mvt. 3" (Marche Funèbre – the Funeral March), is a dark and complicated piece, but one that leaves me feeling really satisfied. The opening flag statement on the magenta silks is superbly written, making excellent use of layering, rounds, and breath.
Additionally, the weapon lines have phenomenal underlying technique, which is important because it allows them to pull off some of the complicated, World Class-level work they're performing.
ORIGINS heads into Dayton in the third seed, behind George Mason University and FIU, and the score groupings are tight.
Scholastic World
Ayala HS took first place with their program, "Be A Blessing," with a score of 85.500. This program has one of the coolest props I've seen, to date, in WGI. There are six…what look like clouds or piles of snow…placed around the floor, one of which serves as a moving platform upon which a performer spins her flag WHILE the prop is being mechanically driven around the floor.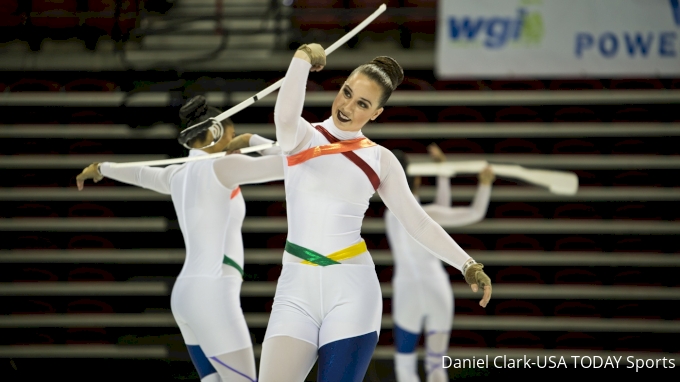 It's a really neat effect that had me thinking, "Well, that's a really innovative way to move performers." The only thing that disappoints, there, is that it's only the one prop that moves. I would've liked to have seen all of them move around the floor and be used in a similar manner.
The ending flag statement is something to be seen, as well. Against the all-white background and uniforms, the brightly colored silks and eventually streamers create a very nice visual moment.
Independent World
Diamante really just stole the show with their program, "If It's Meant To Be," taking first with a score of 93.850, securing their spot in second seed above Paramount and behind Pride, going into Dayton.
Unlock this video, live events, and more with a subscription!
Get Started
Already a subscriber? Log In
There's so much to be said about this program, because it's just breathtaking to watch. It's a masterclass in minimalist design, movement, and staging. It's emotional, while being emotionally unattainable; it's complex, without being overwrought; it's deep, without being unfathomable.
What's more is that the performers are superb movers and spinners, and their technique and execution are above reproach.
One of the crazier moments of the show is the rifle feature during which each rifle member is performing a lift for about a full minute of the show, carrying a second member around like an upside-down backpack. The work is still musical and intricate, and the lifted performer also participates in the work, which is just glorious to watch.
Definitely check out this show, because I am certain that the ensemble weapon release at the end of the program will be THE moment to watch in Dayton in 2019.