Unlock this article, live events, and more with a subscription!
Get Started
Already a subscriber? Log In
The 2019 edition of the WGI Guard Mid-East Power Regional was a showcase of some of the best programs WGI has to offer including Avon HS, Pride of Cincinnati, Paramount, and a wide spread of innovative, well-designed shows. Here are some highlights from Finals on Sunday, March 24th:
Scholastic A
In Scholastic A, Zionsville Community HS walked away with first place with a score of 94.175. Their program, "Fly Me to the Moon," features some fantastic sabre work throughout the program and a closing ensemble flag statement that can't be beat—or so we'll see.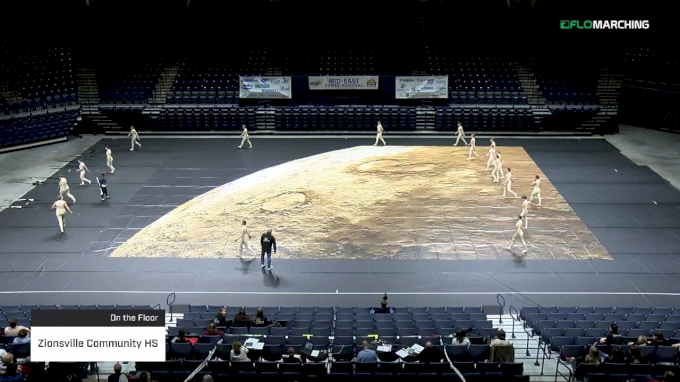 Unlock this video, live events, and more with a subscription!
Get Started
Already a subscriber? Log In
Due to the current state of copyright law in the US, we are unable to provide sound on videos post-performance.
The sabre line is doing some pretty advanced work, making excellent use of space, breath, and some tricky work between and around their legs that really shows off their versatility, flexibility, and strength in their body control while manipulating their equipment.
The ensemble flag statement is an excellent written and performed phrase that really shows how well these performers control their equipment. Every release is controlled and filled with breath, relying not upon speedy rotations, but upon slower ones with great common rotation. They're definitely a program to watch for, come Dayton.
Independent A
In Independent A, Onyx's "Malagueña" captured 1st Place with a score of 84.050. Malagueña is one of those pieces that makes a comeback at least once a decade, and this piano version of the piece is really nice.
Onyx's design is also very smart, using piano benches as props, stages, and eventually sculptures.
Throughout the program, the benches, the underside of which are covered with a mirror, are moved around the floor to establish staging areas for the performers, and about half-way through the program, they begin to stack the benches into pyramids, and eventually what look like modern sculptures.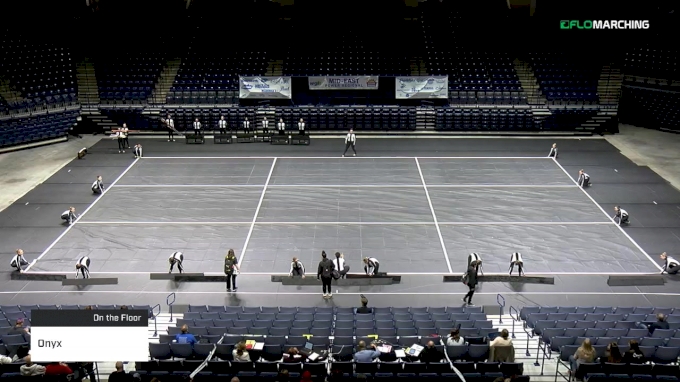 Unlock this video, live events, and more with a subscription!
Get Started
Already a subscriber? Log In
What makes Malagueña such a difficult piece to perform is the reliance of the piece upon holds, sudden increases in tempo, and abrupt halts within the music. Onyx's flag line, in particular, handles these variations with ease, holding on fermatas and releasing with breath.
Scholastic Open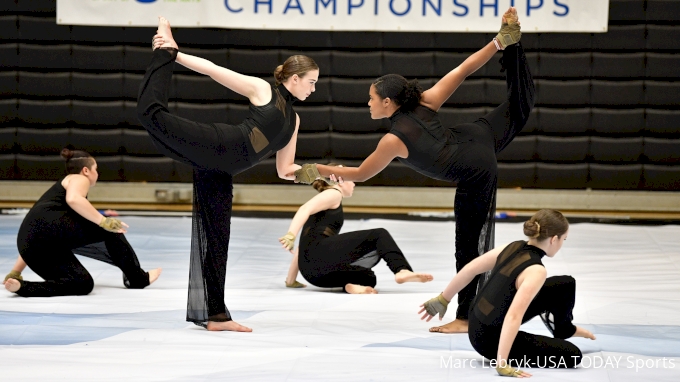 Fishers HS captured 1st Place with a score of 90.600 in Scholastic Open with their program, "A Self-Evident Truth," a slow piece set to the tune of Dick Holler's haunting 1968 call to action, "Abraham, Martin, and John."
Holler wrote the song in response to the assassination of Robert F. Kennedy by Sirhan Sirhan on June 5, 1968. In it, he implores listeners to not just remember the contributions of Abraham Lincoln, John F. Kennedy, and Martin Luther King, Jr.—all of whom were also assassinated—but, to remember and try to live up to and continue to strive for the ideals they put forth.
What makes Fishers so impressive is their consistency and strength with equipment. Their finals run was much stronger than prelims, and they swept every caption across the board.
The guard has excellent control of their equipment and they move very well, both with and without it. All of the major effects consistently appear; all of the "moments" go off without a hitch. They're solid, have good technique, and always put on a good show.
Independent Open
Paramount Open finished in first place with a score of 90.150 with their program, "Such Great Heights." What really sets this show apart from others is the unique design aesthetic.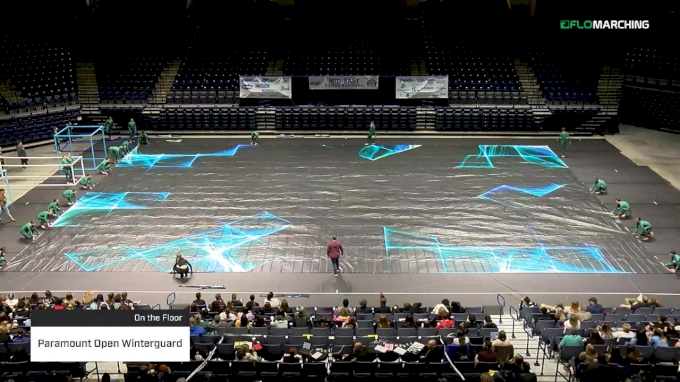 Unlock this video, live events, and more with a subscription!
Get Started
Already a subscriber? Log In
Their props include four large 3D cubes of various widths/depths. Against their black and electric blue floor, these props create interesting optical illusions that change the way the audience perceives the performing surface; it grants a topographical change, almost, that makes it appear, at some point, that performers are standing atop the cubes. The designers really ensured that these props are more than just backdrops, as they are moved around the floor, shaped, reshape, and stacked to create gigantic sculptures and skyscrapers.
On top of the great design is a clearly excellent underlying equipment technique. The work is unique and interesting, but it's really the excellence with which the work is achieved that sets Paramount Open apart from other guards in the class. I would definitely watch for them to medal, this April.
Scholastic World
Avon HS came in first with a score of 94.950 (the same score as Pride of Cincinnati) with their program, "O Night Divine."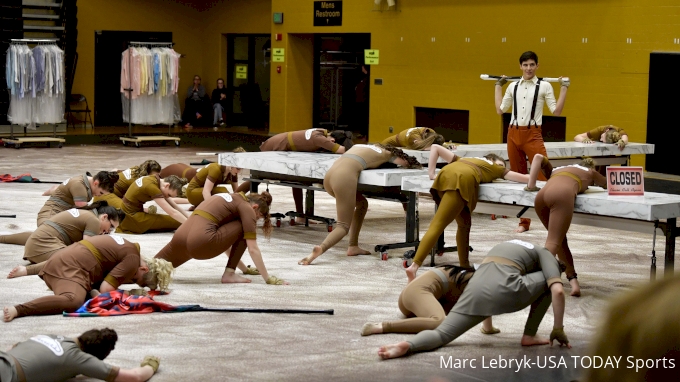 It's honestly hard to argue with that score—Center Grove came in second with a score of 92.550—because, and I say this without reservation, Avon is just that good. Their finals run wasn't as good as their prelims run; there were a few drops during some key moments.
But, there's very little to criticize about this program. The work is fantastically musical, well executed, and incredibly fun to watch. It really makes you want to root for the kids, because they're punching SO FAR above their weight, in terms of skill and execution, nobody else even comes close. They've got consistency, they move well, and they are able to sell a folk song show—not really a genre of music that speaks to kids, these days.
I personally think that this program will go down as one of the best SW programs in WGI, and hopefully they've gotten out all the hiccups before they head to Dayton, next week.
Independent World
Once again, Pride of Cincinnati came out on top with a score of 94.950, and again, it's hard to argue against that number. These performers are, per individual, likely the most talented guard in WGI. They're spinning at a professional level, exhibiting excellent control of their body, equipment, and form. It's also very difficult to talk about Pride without mentioning their innovative and well-utilized set pieces: the ramps with doors in them.
Throughout the program, these ramps turn over and close to let performers enter, exit, and disappear from the stage. Doors open on the sides, the back, the top…if there's a door, Pride has found a way to put it on a ramp. They serve as excellent stages for performers to stand upon, slide down, and spin, which creates so many great visual moments and really allows the performers to have fun with their program.
Going into Dayton, they're a full point ahead of their competition. Diamante earned a score of 93.850 at WGI West, so they're another guard that's well positioned to take home the gold in two weeks.