2019 WGI Percussion West Power Regional
LIVE BLOG: WGI Mid-East and West Power Regionals Finals Updates
LIVE BLOG: WGI Mid-East and West Power Regionals Finals Updates
Get updates from the 2019 WGI Perc/Winds Mid-East and West Power Regional finals on Sunday, Mar. 24.
Mar 24, 2019
by Jeff Griffith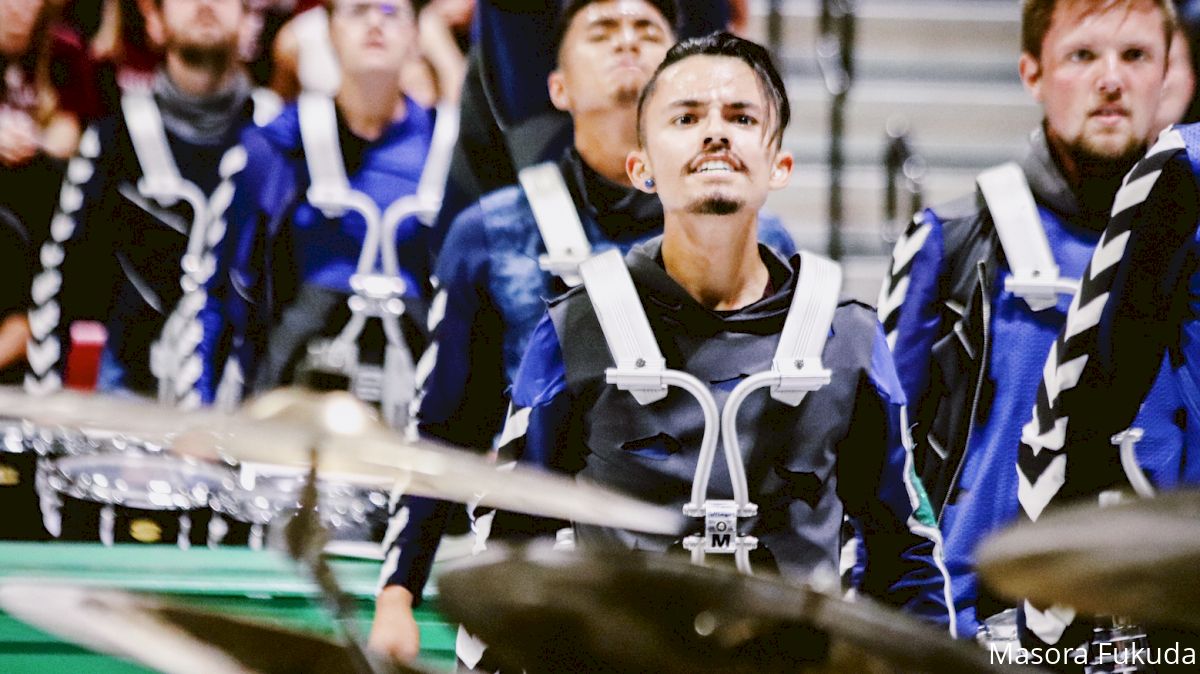 Unlock this article, live events, and more with a subscription!
Get Started
Already a subscriber? Log In
Get updates from the 2019 WGI Perc/Winds Mid-East and West Power Regional finals on Sunday, Mar. 24.
MID-EAST
All times ET. Scroll down for updates from the WGI West Power Regional.
Percussion Scholastic A
West Bloomfield HS — "Woven"
This one certainly isn't lacking for eye-catching bright color, to say the least.On a mostly white background, West Bloomfield's visual design features a bright blue and pink uniform and prop look, almost like the color scheme of cotton candy. "Woven" refers to a DNA, which is the focal point of this show's theme; this is portrayed visually with props that look like strands of DNA, and with pink and blue ribbons that extend from a central black prop. West Bloomfield doesn't just take the scientific take on DNA, it goes deeper to talk about what's in our DNA as people, in a more emotional sense. This was certainly a creative show design to say the least, and well-performed as well.
Forest Hills School District — "Boom!"
Forest Hills' floor design has a very comic book-esque floor design, with and its show opens with a musical reference to Taio Cruz's "Dynamite," so the theme suggested by the title is pretty clear and tangible from the get-go. As you'd expect, therefore, this one definitely isn't lacking for any sort of energy. But it's not all "hype," Forest Hills is able to find some lower dynamic levels while still driving the tempo, when Katy Perry's "Firework" kicks in for the show's middle movement.
Daviess County Public Schools — "Dying of the Light"
This show has a beautiful visual design, with bursts of yellow and orange light flowing from the back left corner in the floor. The show itself centers around the Dylan Thomas poem, "Do Not Go Gentle into that Good Night." Daviess County opens with a pretty lengthy bass feature that I was particularly impressed by; it's pretty clean, and serves as a good attention-grabber right before the opening impact. This program has plenty of memorable high-energy moments; it's hard to pick one out as a highlight, but credit to the battery for moving really well and to the full ensemble for selling the driving tone of the show.
Olentangy Liberty HS — "Lady in Black: The Curse of Sarah Winchester"
Olentangy Liberty has a really produced overall design, with several props that together form an ornate house front. The show itself is meant to tell the story of a woman convinced her house is cursed. In that vein, one of the show's more memorable highlights is its ballad movement, which is set to "Uninvited" by Alanis Morisette, and includes a dance feature in which, presumably, the "spirits" are represented by a handful of gray-clad dancers that surround the battery. This is definitely the show's most theatrical moment, and it makes for a pretty cool midpoint of the show.
Mars Area HS — "The Last Tree"
Mars' floor features one singular tree prop in the back left corner, positioned on the portion of the tarp that is green and grassy; the opposite corner features rocky, black and brown scorched earth. That juxtaposition is important to the development of the show's theme. The opening movement is set to Dinah Washington's "This Bitter Earth." One highlight of the show was a pretty tight split marimba feature, with rhythms overlapping between the four marimba players. In terms of its ability to play cleanly and expressively, this front ensemble was one of the more impressive and memorable parts of this show, to me.
North Allegheny HS — "Hard Rock"
North Allegheny's interpretation of this show's title is much more on the literal side, and that's clear from the floor design, which features a kind of volcanic look in the back left corner that transitions into more of a silver, jagged-edged rock look in the middle and bottom right. This is another show where the bass drums really grab your attention; in this case, the opening feature includes an isolated, vulnerable, and very clean 1-2 split passage, and that drew me in from the get-go. While the visual nature of this show is more of a scientific take on "hard rock," some of the music applies to the genre with the same name, so this show's pretty energetic and fun as you'd imagine.
Milford HS — "The Wild"
Milford has a very rugged look to its design, with a tattered grid look to its floor and several tall pillar-like props positioned throughout the stage. This show is full of energy from the start, and features some really chaotic — yet really cleanly executed — music passages early on. Plenty of different nature sound effects help carry the show's unique emotions, which the performers match very well. For a show with this much energy, surprisingly enough, the ballad movement was probably the most memorable to me, because it was really expressive and featured a really nice, soft, musical bass feature. That said, the closer included a split snare feature, and I'm a sucker for a clean snare split, so that was a highlight as well.
Belleville East HS — "A Thousand Paper Cranes"
This show's floor is filled with paper cranes hanging from strings maybe 10 feet above the floor, which adds a really cool layer to the visual design. That said, this show doesn't exactly have the musical feel you'd expect it to; it's much more driving and in-your-face early on than you'd be prepared for based on what the title seemingly presents, but it definitely works well. This show has some really cool, energetic battery moments; the ensemble moves really well, which makes this a pleasure to watch from a visual standpoint. The trading snare and tenor features to start the final movement were probably the most memorable moments, for me, from Belleville East.
Percussion Independent A
Nomad Indoor — "Breaking Free"
Nomad uses a lot of clear imagery of being caged in, whether it's with its wall-like props, or with the yellow bands that go around the bass drummers, seeming to hold their arms in. Those wraps are removed at the start of the bass feature in the opener, which makes for a real cool combined music-visual effect from the ensemble. A good portion of the show — most of the ballad movement, set to Eric Whitacre's "Fly to Paradise" — is spent with the full battery confined to the bottom right portion of the show, confined to that space by the aforementioned props. The musical impact of this movement, after the members break out of their confinement, was probably the highlight of "Breaking Free" for me.
Railmen Indoor Percussion — "A Hero's Promise"
Railmen has a a really cool setup; there are two ramps on the floor, one in the back right and one in the front right, and the entire front ensemble is set up in the front left of the performance area. The floor itself features cracked white, orange and red ground toward the back of the floor, which fades to black in the front. The show opens with a reference to the Oath of Enlistment for Military Service; this seems to be the basis for the show itself, as other sound effects allude to the concept of soldiers in the armed forces. This opens up for many different musical and visual effects, the most memorable of which probably being a snare feature played very cleanly with brushes that almost gave it the sound of military snare drums.
Percussion Scholastic Concert A
Penn-Trafford HS — "Space Race"
Penn-Trafford's show really gets off to a flying start, with a powerful impact opening the show. This production has some very ethereal music, as you'd expect, as well as several driving, upbeat passages to go along with that. All in all, some of the coolest moments are the quieter ones, when the music isn't busy, but there's still plenty to listen to. These passages make the louder, more energetic ones even more effective because of the builds that get the ensemble up to those higs. To me, that's always one mark of a good concert performance.
Percussion Scholastic Concert Open
Campbell County HS — "Submerged"
This show was really cool to me; Campbell County did a great job of something that's not easy, and that's present a theme visually despite not marching. The entire setup is centered around one pianist who plays in a prop that makes him look like he's playing at the bottom of the ocean, in a way. The tone of the music really matched that undersea feel well.
Percussion Scholastic Open
Central Crossing HS — "Line by Line"
White is the dominant color in this show, as it covers the entirety of the floor of the props, the fronts of every front ensemble instrument, and pretty much all of the uniforms. Slowly, "line by line," as the ittle would sufggest, members add to the otherwise empty dsign, building images on the all-white props, so as to visually convey the overarching theme. The overall integration of props into this show was definitely a highlight, to say the least.
Mt. Juliet HS — "The Hands that Built America"
Between its uniforms, floor design, and street-light props, Mt. Juliet does a great job portraying the blue-collar, early 1900s aesthetic that serves as the setting for its production. Theatrics and visuals aside, I was really impressed by the music side of things with this show. Mt. Juliet has a really musically sound ensemble, and uses electronics tastefully in its design. A major highlight for me, though, was a visual effect; during the show's ballad, a black translucent tarp is held up by all of the street-light props, and members shine lights from inside.
Lawrence Township — "I Was Perfect"
The use of mirrors as props really helps convey the idea of personal insecurity that is meant to be the emotional centerpiece of this show. Lawrence Township's show tells the story of a dancer struggling to live up to expectation. The use of a live electronic cello makes for not only a cool music effect, but also a unique way to convey the longing emotions that fit with this theme. For good portion of this show, the battery becomes much more of a backdrop for the story, but still does a great job of characterizing the emotions and frustrations of this show concept well.
INDEPENDENT MARCHING OPEN
Motor City Percussion — "The Devil's Wedding"
This is a really unique, original show concept which made it really intriguing. Musically speaking, it's not quite as dark as you might expect given its main character, but it's still very theatric and produced, especially from a visual standpoint; church pews serve as the main props, which are integrated well into the overall design. This show kind of gave me shades of Pulse Percussion's 2017 show, "Uninvited," which is a good thing; it tells a story really well, has great character performances, and is also pretty well-executed musically.
Triple Crown — "A World Beneath our Feet"
This was my second time getting to see this show, and I can say it's come a long way since mid-February, as all shows do, of course. Members are meant to be like insects, as props give the audience a bug's-eye view of a grassy terrain. It's going to be really interesting to see final scores from this PIO duo, because Triple Crown was on a very similar level of performance and production to Motor City. I was particularly impressed by Triple Crown's snare feature, which included an impressive set of split shots. These members really did a great job of selling their "insect" characterization.
SCHOLASTIC MARCHING WORLD
Centerville HS — "Coming of Age"
This show is really just a lot of fun. I said it when I first saw it in February and I'll say it again, it reminds me of the TV show, "The Wonder Years." It's got all the references to 80s pop culture you could think of, including lines from Ferris Bueller's Day Off, George Michael's "Careless Whisper" (played on saxophone), 80s fashion, the whole nine. If you're going to WGI World Championships, I guarantee you're going to have fun watching this show — that's not necessarily to say it's more or less entertaining than other productions, but it's really loose and audience-engaging.
Walled Lake Central HS — "Confined"
Maybe I'm just a sucker for the dystopian show concept, but this show is really cool. It's set to the story of Harrison Bergeron, a short story set in 2081, a time in which laws have been passed to enforce handicaps on people with talents and abilities so as to level the world's playing field. The show centers more on the emotional and social confinement — the lack of individuality — that comes with such laws; this feeling is portrayed visually by metal cages. This is just a really creative show concept, and the members do a really good job of selling the wide array of emotions that comes with it.
Lebanon HS — "Pink"
This show is all about Pink Floyd, so as you'd imagine, it's a pretty fun watch as well. There's a triangular platform in the bottom right corner, positioned next to a microphone, which creates a cool music effect as well as a cool allusion to the iconic prism that accompanies Pink Floyd's logo. The highlight of this show, to me, is when one of Lebanon's bass drummers performers the trumpet solo to Pink Floyd's "Great Gig in the Sky" on said platform. That song really jams, and Lebanon's arrangement of it is no exception.
INDEPENDENT MARCHING WORLD
INov8 Winter Percussion — "Dreamers"
Much like ConneXus, this is INov8's first year in PIW, and I'm really impressed by the strides they've made since I saw them in February. This show runs through a wide array of emotions and is really well-designed. It's pretty simple in terms of a concept, but is designed well and performed well. I don't know how exactly how far this group is going to go in Dayton, but they're definitely going to, at the very least, make noise in their first World Class campaign.
ConneXus — "Shed"
When I saw this show at the Dayton regional in February, it wasn't nearly complete, but it left me really excited to see what it would become when it was, and boy did ConneXus deliver. This show has really cool uses of props, as the entire outer edge of the floor is designed to look somewhat like a snake. Many visual effects allude to the idea of a snake shedding its skin, but what sticks out most about this show is the energy. It's well-designed and really creative, but above all, it's incredibly engaging. It's going to be interesting to see how these guys fare at World Championships; they've really brought it in their first year at the World Class level.
Atlanta Quest — "Lay Your Burden Down"
Unlike the other three PIW groups, this weekend was my first read on Atlanta Quest, and I was impressed. This is a really aesthetically-pleasing show from a visual standpoint, and it starts off with a really impressive tenor feature. The battery was really enjoyable to listen to throughout, but the expressive nature of the front ensemble was equally memorable. This show really jumps between musically feels, styles and emotions, but it really works well, largely because of how the members perform it at a high level.
Rhythm X — "ALINEA"
This show is really cool throughout, but no part of it has me quite as enamored as its opening front ensemble feature. I mean, holy cow. The intricacy of the music passages, coupled with just how clean it is from member to member, is really striking. There's not a ton left o say about this show other than the fact that Rhythm X is really firing on all cylinders heading into the finals push, but this is definitely a program you're going to want to watch for yourself before the 2019 season ends. It's not incredibly energetic or emotional, it's just clean, aesthetically pleasing, and really well-performed.
WEST
All times PT.
Percussion Scholastic A
Gilbert HS — "After the Tone"
Three monitors set up on desks in the back left corner seem to look like office cubicle settings, and having each member dressed in bland dress shirts and ties makes it seem like that's going to be a major theme of this show. One thing worth noting — Gilbert uses sound effects really tastefully and well. That's not always the case in indoor percussion, particularly at the PSA level. There are a lot of theatrics in this show, and the members sell them really well, which makes this show a pretty engaging watch.
Ironwood HS — "Galerie"
I really enjoyed Ironwood's visual design; most of the floor and uniforms have a golden-tan tone to them, and the backdrops in the back left corner are largely white, and over the course of the show are revealed to contain works of art — all part of the "Galerie." This show hinges a lot on expression and dance; the ballad movement was my personal favorite. The front ensemble played beautifully, and there was a lot to watch on the floor in terms of body from the battery members. Above all else, this is really an aesthetically-pleasing, well-designed and well-performed show.
Valhalla HS — "Breathe"
This was my second time seeing this show; it was hard to get a good read the first time, but I really enjoyed it this time around. Valhalla's is a very artistic take on the idea of breathing; the floor design appears to be a red, orange and black sketched tree image, i.e, the source of oxygen. As far as the performance itself was concerned, I was particularly impressed with Valhalla's opener snare feature and subsequent first impact; these moments were really tight, and therefore really effective. There was more than one memorable feature from this ensemble, which is usually a good sign of balance throughout the group.
Arbor View HS — "Captive"
Arbor View portrays the idea of the "captive" from the perspective of a bird inside a golden cage, which is positioned in the back left corner of the floor. The character playing this role eventually breaks out during the show's powerful closing movement, which was probably one of the more memorable moments of the performance. The ending was really strong in general, but it grew more chaotic — not in a bad way — as the members forced the main character back into her confinement to end the show.
Lemoore HS — "Of Fire and Ice"
Half of the members wear predominantly blue uniforms, while the other half wears predominantly red and orange uniforms; the former spend most of the show on the left side of the floor, while the latter spend most of the show on the right side. This show hinges on visual symbols of juxtaposition, call and response, separation, etc. to display the idea of two sides going against each other. It's somewhat of a common type of show concept, but Lemoore does a good job of selling it in its own unique way.
Enochs HS — "I Remain"
Compared to a lot of the PSA groups, Enochs has a really simple visual design, but it pops really well; a floor that's largely covered in bright colors like orange and yellow juxtaposes well with a uniform that features shades of purple. I really enjoyed this show right from the opening impact, which was really powerful; this group is quite clean, moves well, and packs a very strong overall ensemble sound. Couple all of those things with a well-designed, expressive show, and this one is really worth the watch.
Percussion Independent A
Cornerstone Percussion — "Wasteland"
I got to see Cornerstone at the Temecula regional in February, and it's clear they've come so far since then. This show has a really eye-catching design; it almost gives you similar vibes to what you saw in the beginning of The Wizard of Oz, in terms of the overall look of the "Wasteland." This group is undersized, but it's clear they've connected with the show over the past two months, because despite lacking for a large number of performers, they sell the concept really well, and any time that's the case, a show is going to be enjoyable to watch.
Vegas Vanguard — "Curtain Call"
This one's a lot of fun. This was my second time seeing it and it's just as cool the second time. Vegas Vanguard goes for the "Greatest Showman" look and sound, with somewhat of a circus setup as its floor and backdrops. I most notably enjoyed the ending; Vegas Vanguard has somewhat of a fade-out ending, in which you see a member begin to sweep up the floor after the "show," but the members do come out for one final curtain call, as the show's title would allude. In all aspects, this is a really entertaining show, but the theatrics of it are really what sell it most.
Pinnacle Percussion — "Near Death"
This show is really produced and performed at a very high level; it's got lights, plenty of props, and a really sleek uniform look. When coupled with really good musical and visual performance quality, that's always the recipe for a really good package. Pinnacle goes through a wide array of emotions and embodies them all very well, so this was honestly a really engaging program to take in.
Percussion Scholastic Open
Amador Valley HS — "The Descent"
This show was pretty cool, and had a really clean overall visual design; there are two ramps in the back left and front right corners, and three translucent backdrops in the back right corner, so the stage is framed really well. The ramps are integrated well for solo and feature passages. In one of the cooler effects of this show several of the members re-emerge from behind props wearing headbands with lights attached to them, making it seem as though the "descent" refers to the descent into a mine of sorts? I'm not positive about that, but that's the most tangible way I connected the dots with this one. Regardless, it's a cool show, and Amador Valley performs it pretty well in all aspects.
Carlsbad HS — "The Nature of Change"
Another group that deploys ramps, Carlsbad has a big one in the back right corner of its floor, which is used as the focal point of the show's opening tribal dance feature. Carslbad particularly impressed me from a visual standpoint; they had very impressive clarity of drill, really sold their body movements, and had great character expression throughout the show. I thought one of the key highlights of the show that stuck with me was the closer, which had some really strong music passages and a tangible energy coming off of the performers.
Temple City HS — "Finding Imagination"
I couldn't help but be fascinated by Temple City's show. The floor is extremely colorful, and all of the props look like they were drawn on white paper with black marker, but they're integrated into the show as if they're real-life objects. For example, two childishly-drawn subway cars are used to open the show as if they're real subway cars. Hence, the "imagination" aspect, that's what this show is all about, and that's what makes it so intriguing and well-designed. The moment that really struck me was the ballad; I didn't recognize the piece of music, but it was really pretty, and the movements that went with it were equally pretty, which I felt really embodied what this show was meant to be about.
Mission Viejo HS — "Divided and Conquered"
This show is kind of designed like Pulse Percussion's show, and as you'll more than likely read later, I love Pulse's show, so I really enjoyed this one as well. The similarities really only come from a visual perspective; long props are used to separate parts of the floor and isolate members from one another. This concept also manifests itself musically, with a lot of solos and section features, all of which are pretty clean. I also really enjoyed the added effect of an electric string trio — what looks like a bass, a cello and a violin. I think strings add a ton to indoor percussion, and this was a great use of them.
Foothill HS — "All that I Believe"
This is one of the smaller Open Class groups I've seen, but that doesn't make them any less talented, nor does it make their performance any less effective. I was really impressed by the mature sound that came out of this group despite its size; for context, there are maybe 20 members between battery and front ensemble combined. This show is really philsophical, which I always like, especially when it's got a really engaging music book to go with it, which this show definitely does. All in all, big fan of what Foothill's putting on the floor.
Independence HS — "Timebomb: Conflict of the Mind"
I definitely expected a show with this title to be really energetic, and boy, was I right. Independence's show is a thought-provoking engaging watch to say the least. It doesn't necessarily have a chaotic energy, but there's a lot of really driving music that fits that deep-thinking concept presented by this ensemble. I really appreciated Independence's staging; they used their floor design really well, both in terms of props and positioning of marching members.
Rancho Cucamonga HS — "Planet X"
This group has a really cool visual design; it's very dark, with stars, red spalsehs of light, and one half-sphere in the middle of the floor. The show is also quite dark, but in a cool, mysterious way, with a lot of low, resonant chords, dynamic rises and falls, and energetic driving moments. One of the highlights of that stuck out to me was a bass feature set to one of my favorite pieces of music, Holst's "Jupiter," which served as the source music for a really strong ballad movement, and reappears in the show's powerful closing sequence.
Arcadia HS — "Line of Sight"
This show's all about visual, but does a good job incorporating the visual effects into the music. The props are all tall, thin poles — some straight, some curved — but they're often used for organization and spacing, which makes for a really clean overall look. Some of the curved props are used as instruments, rest on top of the tenor players' harnesses and uses as part of the middle movement's tenor feature passage. The props remain positioned there, and continue to be integrated in that way throughout the performance. So, that was probably the coolest part of this show to me, but all in all, it's a pretty entertaining watch.
West Ranch HS — "Everybody Wants to Rule the World"
This show is an interesting historical take on colonialism, it seems. The floor is a world map that almost like the kind of map you'd see in a game of RISK; it's got the look of old and tattered parchment. Tall props separate the left and right sides of the floor, so there are really cool visual effects that make it look as though individuals are invading one side or the other, or they're isolated from one another, and so forth. The props are turned around midway to reveal graffiti — the likes of hearts, peace signs, etc. — and moved to the back of the stage, opening up the floor and removing that separation. This is a really well-designd show, in my opinion, especially in terms of its visual effects. And I really liked the use of Charlie Chaplin's iconic "You are not machines…" speech from The Great Dictator, used in the show's ballad.
Casa Grande HS — "The Persistence of Time"
On an all-white floor, Casa Grande's all-purple uniforms really pop, so that's the first thing that caught my eye with this show. The very next thing that caught my eye, though, was this group's ability to perform with really impeccable visual precision right out of the gate. There's a lot going on across the floor in the early moments, but the members do a really good job of making it all look pleasing to the eye.
San Marino HS — "Gravity"
San Marino's got a really big ramp that goes down both sides out of the back left corner, and it's used as a centerpiece for a handful of key moments throughout the show. A small pink ball is the focal point for the opening sequence, as it's passed between battery members while the front ensemble sets the tone for the show. In one of the cooler visual moments of the show, each battery member holds and dances with a shiny umbrella during a powerful ballad climax.
Chino HS — "Reminders"
The opening sequence of this program is really cool; it's got a bit of a tribal feel to it, and each member performs really quick, precise and unified movements with a long staff in hand. These staff props become tall poles positioned throughout the floor once the full ensemble kicks in. I'm not entirely sure I connected with what the overall concept was meant to be with this show, but I was still really engaged by it.
Foothill HS (NV) — "When You're Young"
The visual design of this show really hinges the introduction and removal of color; the floor and uniforms are heavily white and gray in the first moments of the show, but over time, colorful images are revealed on backdrops, seeming to introduce the ideas of imagination and creativity into the story. Those are later turned around, as the juxtaposition continues between life with and without these characteristics. One really cool thing about this show was the flute soloist — yes, a flute soloist. I don't know if I'd ever seen that in WGI before, but it was a really pretty touch.
Los Alamitos HS — "Mutiny on Dark Waters"
This show is really, really fun. Los Alamitos sells the pirate motif really well, and the visual design only augments that even further, with a wooden sterring wheel, a Jolly Roger flag, and a treasure chest featured as key props throughout the performance stage. Beyond their very good job embodying the characters of the show, the performers for Los Alamitos really bring a lot of performance energy, but control it well, in the form of a pretty impressively clean production. It's hard to take an idiom like pirates and make it a serious, high-level program, but Los Alamitos does a great job of doing just that.
El Dorado HS — "Viral"
El Dorado's floor has a swampy green look to it, and its uniforms and props are entirely black. The props — there's close to 20 of them — are all black pyramids that pretty much fill the entire floor to start the show. When I heard the title, I expected it to be more about internet virality, but El Dorados's "Viral" actually refers to the spread of a virus or plague, which makes this a much darker show than I expected, but it's really cool. The props create a really cool visual illusion; members can seem to appear out of nowehre because there's somewhere to hide at every turn. I can definitely see why this group won PSO prelims; this show is incredibly entertaining
INDEPENDENT MARCHING OPEN
Flux Indoor Percussion — "The Forest"
Flux has a very eerie overall look to its design, with kind of a blue-gray tint covering its forest-like props and floor. As you'd expect, that same feeling is pretty prevalent throughout the show, as Flux looks to create a dark and mysterious image of "The Forest," most notably in terms of the tone of the music. This means plenty of rises and falls in dynamics, low swelling chords and a handful of chilling sound effects, all of which works together to make a really intriguing product.
Gold Indoor Percussion — "Nightingale"
I had a hard time getting a real read on this show when I saw it at the Temecula regional, but one thing was clear then and continues to be now, it's really aptly described by the word "pretty," both in terms of music and visual design. There are some really beautiful passages of music — played pretty well, I might add — coupled with an aesthetically-pleasing overall visual package. The highlight, to me, was probably the ending, which was really quite powerful.
Vision Percussion — "Kinetic"
This show has some really cool visual effects that made me fall in love with it when I saw it in Temecula, and they continue to be captivating now. There are five cubic props integrated well into this show, each of which contains a ball hanging from a string, and when they combine they form Newton's cradle, the set of pendulums used to demonstrate kinetic energy. Throw in great use of electronic sound effects, and this is a really well-designed package.
Red Wave Indoor — "Medicine"
A stressed, seemingly frustrated and crouched individual is pictured in black and white on Red Wave's tarp, and the only splash of color in the show is a red curtain positioned in the back left corner of the floor. This was one of the more emotionally-charged shows in PIO competition, and that really manifested itself in the music.
Elan Percussion — "The War of the Worlds"
Both times I've seen this show, I've really enjoyed it. It's based on the radio broadcast of Orson Welles' 1938 "War of the Worlds" broadcast, a story of alien invasion that was taken as literal news by its listeners, therefore sending them into a panic. Since I last saw Elan in February though, the show is still well-designed, but the main difference is the performers connection with the show to the point where they sell that panicked state really well. The music and visual designs really match that chaotic tension as well, so it's really quite the engaging total package.
Bakersfield College — "For Man We Wait..."
I remember having a really hard time getting a read for this one, too, the first time I saw it, but the second time around, I really clicked with it. First off, I really love the way the floor is designed; it's a dark design with an unconventional color scheme, but works well to create a very natural look. As the one returning PIO finalist in this group of six competitors, Bakersfield really came out firing this weekend, especially from the music side of things. I was really impressed, in particular, by the sound quality of the battery in some of its key moments.
SCHOLASTIC MARCHING WORLD
Cupertino HS — "Not Good Enough"
As is made somewhat tangible by the title, this show plays on feelings of insecurity, in this case, through the lens of a student. The program opens with what sounds like an alarm clock, and grows a little more hectic from there, until a bright red "A-" is revealed in the back left corner of the floor, coupled with a voiceover of the show's title. One of the more memorable moments of this show was the snare feature; Cupertino has a pretty big line — seven members — for a scholastic group, and their feature packed a good punch, as would be expected, but was also really clean.
Sunny Hills HS — "Sleeping Giant"
Sunny Hills' opening impact really struck me. It's full of life and really upbeat, and played very cleanly, so it really grabs your attention right off the bat. This show is really lively from the start; it's incredibly energetic, especially when it comes to the music, which makes it a really engaging show to watch. The members pack a very good controlled energy, and move very well at such high tempos. Some shows are memorable because of design, some because of concept, and some because they're just plain hype; of those three, this one was undoubtedly the third.
Diamond Bar HS — "The Hunted"
Diamond Bar has a really cool visual design, with props that look like the trunks of trees sticking out from a midnight green floor. The opening bass feature really caught my ear; Diamond Bar deploys six basses, I'm a sucker for a good bass feature, and this was definitely that. From an entire music standpoint, I was really impressed by how generally clean this group was. Obviously, you'd expect that out of a World Class group, but Diamond Bar had a pretty challenging book, and didn't seem at all phased by it.
Rowland HS — "Capsized"
Rowland's show has a bit of a Castaway feel to it, but only really in terms of the "story" being told. Especially in the opening sequences, effective use of dynamics — particularly from the battery — was really noticeable from Rowland, with a lot of really expressive swells and diminuendos. Soon after though, a driving — and, boy, do I mean driving — snare feature kicks in with accents noted by the rest of the percussion ensemble, and that was one of the more memorable parts of this show. From a big-picture perspective, though, what really stuck about this show was Rowland's ability to go from high, high-energy movements, right back to passages of quiet, emotional music, and carry those rises and falls throughout the performance.
Etiwanda HS — "It's Just Us"
Etiwanda's show is very unique to what other scholastic groups are doing; it tells a story, like most shows, but in this case, the story is told through two actors, playing a frustrated, struggling married couple. They sell those roles incredibly well, and the emotions that follow are portrayed so well by the musicians, who serve as almost a backdrop to the story portrayed by the aforementioned actors. This show isn't lacking at all for visual effects; nine halo-like objects hand over the back of the floor, and light up bright-blue on the main impact of the final movment, when the story reaches its peak. It's hard to explain this show concept, but it's one that's definitely worth checking out if you have the chance at WGI World Championships.
La Quinta HS — "A Place in My Daydream"
This show is really intriguing; it opens with ragtime piano melodies of "Mr. Sandman," so as to signify the start of a dream. La Quinta has a pretty minimal design in terms of floor imaging and use of color, but centers around one eye-catchingly large prop on which the main character remains positioned, while, it seems, her dream plays out around her. I could be off-base, that's just the way my mind connected the dots watching this show. The last time I saw La Quinta was the Temecula regional in February, an event at which they won Open Class before making the move up to PSW, and they really proved to me that they belong in the World Class ranks with this performance. We'll see what finals results hold, but a top-five finish in prelims really hammered that home.
Vista Murrieta HS — "Menagerie"
Vista Murrieta's show is a very visually-driven one; it features four television screens in the very front of the floor, one between each marimba player — and four translucent, white circular props that move throughout the stage as the show progresses. Along those lines, while I was impressed by Vista Murrieta's musicianship, the ensemble's ability to move well both in terms of marching but also in terms of express body and movement, really stood out. The mark of a good visual performance tends to be, for me, that it's very clear to me what each and every form is meant to look like, and Vista Murrieta's clarity from that perspective was one of the more memorable parts of this performance.
Ayala HS — "The Indoor Generation"
Ayala had really effective use of screens; most of its props had some kind of screen on them. The four main props look like smartphone screen. All in all, this show comes across as a take on the way technology has changed our society, and in this case, for the worse. "The Indoor Generation" refers to a generation that has, as the show's narration mentions, "left nature behind." Regardless of the theme, though, there's no mistaking the performance quality put on the floor by Ayala, once again. Especially from a visual perspective, Ayala really takes its precision to the next level, with impeccable execution of a really intricate drill design.
Arcadia HS — "One of Us"
This group has a very colorful design, with splashes of different colors strewn about the floor and the props. To drive its theme, Arcadia plays on a lot of visual effects of isolation, separation, individualism, etc.; this is made most prevalent in the drill, but also with solos and section features at certain points throughout the program. Before the entire battery plays together, each section has its own feature; the first full battery entrance comes a good two minutes into the show. This kind of design makes the show fun to follow, because a compartmentalized design means there's probably always going to be somewhere new to look and listen at a given time.
Chino Hills — "The Vine Wound Tight"
I continue to be really, really captivated by this show. I saw it back in February at the Temecula regional and it caught my attention, but seeing it a second time, it's really such a well-designed show. In my opinion — just one man's opinion — they're all good, but this is probably Chino Hills' best design since 2016's "Through Aging Eyes," a show I really loved. It's hard to put the story being told into words, but this show plays on so many emotions — all of which are sold so well by the performers, who perform at such a high level musically and visually — and really keeps you engaged from start to finish.
INDEPENDENT MARCHING WORLD
Breakthough Indoor Percussion — "UNREST"
It's clear Breakthrough has taken a major step forward in this, its first year as a World Class ensemble. Sure, that hasn't necessarily manifested itself in placement, but it's hard to deny the performance quality of this group compared to the one that took 15th in PIO last year. That was already somewhat clear to me when I saw this show in late February, but they've improved even further since then and have therefore taken an already energetic show to the next level. This show plays on a lot of the emotions you'd expect to accompany a show with this title, and the embodiment of such things always becomes more tangible as a show becomes more familiar to its members — Breakthrough is no exception.
Vessel — "Tremble"
This show has a bit of a Broken City feel to it — flowing chords, a lot of expression and emotion, effective use of simple color and props. I don't know if that's intentional, but it works really well. A good portion of "Tremble" has a very somber feel to it; maybe that's just because of an emphasis on string patches, but the overall feel of the music creates a very longing emotion. Things pick up midway through, but that general feeling comes back for the show's final moments. The highlight of this show, to me, was definitely the snare feature in the middle movement. It's fast, it's intricate, it's isolated — therefore, quite vulnerable — and it's quite clean. The same is true of the cymbal feature a few minutes later, which was another highlight.
Dark Sky Percussion — 5:02 PM
I'm not entirely sure what PHRE stands for; my best guess is that it's the abbreviation for "philosophy and religion," as many of the show's narrations are of a deep-thinking philosophical nature. Regardless, this is a really cool show on many different levels. For a large portion of te show, the battery's instruments are connected to tall vertical red poles that moves throughout the floor; so, the members never carry their instruments, but their instruments rather become props, which adds another level to the intricate visual design. The music is really high-energy, too, so this is a very engaging show to follow.
POW Percussion — "Dia de los Muertos"
I love the visual design of this show. Bright shades of blue and orange, featured on large, beautiful props, really catch your eye and build what was one of the more memorable stages from the weekend. This show plays on a lot of the Latin styles of music you'd expect from a show that centers around the Mexican holiday of the same name, which translates to "Day of the Dead," hence an array of large, artistically displayed skulls across POW's colorful backdrop props. Such music styles aren't incredibly common in indoor percussion, but POW does a really good job executing them in an entertaining way.
RCC — "He Who Controls the Universe"
This show, based on its title, seems to refer to the Frank Herbert quote, "He who controls the spice controls the universe." In that quote, "spice" refers to the wealth, or the means. With that in mind, this is a very different show than we've seen from RCC the last couple of years; in terms of the overall feel of the show, it reminded me most of RCC's 2014 show, "So, this is Earth?" They're not very similar concepts, but in terms of the general feeling of the production, that's the vibe I got. This show is really creative and intuitive, and is very effective in its use of electronics, as is often the case for an RCC show. We learned this weekend that the defending PIW champions have plenty of competitors standing in the way of their title defense, but this group seems at least poised to take its best shot at back-to-back gold in Dayton.
Pule Percussion — "Divided We Fall"
This show has a really tangible and easy to grasp theme, but man, I think it's so well-designed, both visually and musically. There are recognizable, topical references to songs and quotations, and so many effective visual motifs, all centered around a green table prop that serves as the separating line down the middle of the floor, until it's broken apart and moved throughout the performance stage. Musical motifs to John Lennon songs like "Imagine," "Come Together," and "While My Guitar Gently Weeps" — all of which pine, in some way, for unity in society — are prevalent throughout the show, which makes the theme even more accessible. All in all, while this show may not be the most thought-provoking, it's high-energy, it's performed really well, and it's designed really well in all aspects, and of course, you really can't ask for much more.
Broken City — "Cede"
As we've come to expect from Broken City's shows, the theme is very loose and emotional; once again, Broken City's design is hinged on expressive music, somewhat minimalist visual design, and really, really tasteful use of electronics. While Broken City is always good visually, its music continues to be, time and time again, what draws me back to its shows, and this one is no exception. One of the most memorable moments of the show for me was the opening sequence, which featured a really open-rhythm bass feature and swelling synth chords. Oh, and there's another "a cappella" — if you will — snare feature. It's not quite as long or as complex as last year's, but it's one of many examples of the incredible inner beat that seems to have become a hallmark of Broken City.