Unlock this article, live events, and more with a subscription!
Get Started
Already a subscriber? Log In
The 2019 WGI Dallas Regional featured a lot of tough competition in Scholastic A and Open class. With 32 SA entries in prelims, only 15 were able to move on to finals. Of the 8 SO groups in Prelims, only 6 moved on to Finals.
If it showed us anything, this weekend, it's that north-central Texas guards aren't playing around this season. There were so many strong guard programs in both prelims and finals. The DFW area is filled with powerhouse guard programs who come to throw down…err…throw up…wait…SPIN their butts off in whatever gym will host a show.
LIVE BLOG: Get A Full Recap Of Dallas Regional Finals
Scholastic Regional A
There were three groups in Scholastic Regional A Finals - Timber Creek HS, Allen HS JV, and Union HS from Oklahoma.
In third place, Union HS's program, "Off to the Races," was a fun mashup of Grieg's "Hall of the Mountain King" and Cake's "The Distance." The members looked like they were having a great time performing, and their performance quality and ability matched.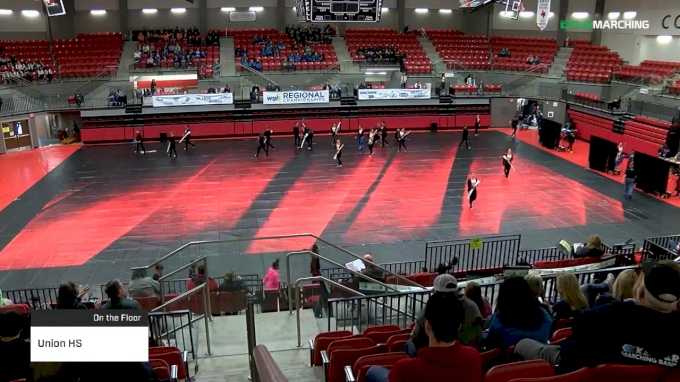 Unlock this video, live events, and more with a subscription!
Get Started
Already a subscriber? Log In
In second, Allen HS JV (one of three winter guards out of Allen HS) took us to the circus with their program, "The Show," featuring a circus tent and harlequin-patterned floor and flags. Don't forget your ticket to "The Show," or you'll miss their all-rifle section demonstrating some complex technical skill.
In first, Timber Creek's program, "Let Me Fall," was a rhapsody in blue (not to be confused to the Gershwin tune). There were lots of great moments in this show, and the performers were really giving us their all. Both Timber Creek guards made finals for the first time this weekend.
Scholastic Regional A
1
Timber Creek HS (Keller, TX)
67.32
II
2
Allen HS JV (Allen, TX)
64.32
II
3
Union HS (Tulsa, OK)
63.69
II
Scholastic A
With so many SA guards, it's hard to pare it down to just the best moments. Not to mention, "the best" is so subjective, I don't feel qualified to definitively say, "these groups were the best," but for the sake of brevity, I'm going to select a handful of groups that really caught my eye:
Keller Central HS probably had my favorite overall uniform design with their ode to the 1960s Mod fashion movement (think black and white-striped pencil skirts). Their use of complementary and contrasting colors against two separate psychedelic art pieces on the floor served as a treat to the eye.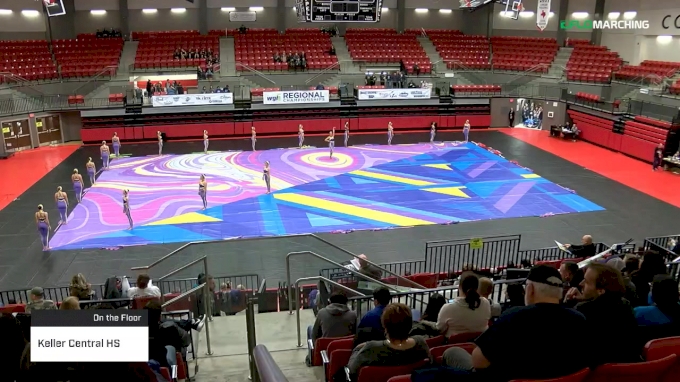 Unlock this video, live events, and more with a subscription!
Get Started
Already a subscriber? Log In
In 6th Place, The Colony HS put on a great performance with their a capella program, "Lost in the Waves." My favorite part of this show was the "no-count" flag feature at the end, performed with no music to rely on as a metronome, which requires the performers to watch each other for timing. This was a very impressive feat that helped bump their score up over two points from prelims to finals, from 70.120 to 72.810.
Southlake Carroll HS was another group that saw a big jump in score between the two performances—over four points (72.550 to 76.630). In looking at their recaps, Equipment Analysis seems to be what put them over the top, with a score of 15.26. The second place Equipment Analysis score was 14.94 (The Colony HS).
As I said in the Live Blog, this group is doing a number of tricks that were once the provenance of World Class—rolls underneath equipment tosses; a segment where the sabres, who are in a bridge shape, roll the sabre from under their bodies over and around their torsos to re-grab on the other side; excellent sabre v. flag equipment work layering featuring considerably tricky work.
I'd be surprised if this group doesn't get bumped up to Open Class at some point this season.
Scholastic A
1
Southlake Carroll HS (Southlake, TX)
76.63
I
2
Guyer HS (Denton, TX)
75.52
I
3
Lamar HS (Arlington , TX)
74.05
II
4
Timberview HS (Arlington, TX)
73.12
II
5
The Colony HS (The Colony, TX)
72.81
II
6
Colleyville Heritage HS (Colleyville, TX)
71.08
II
7
Keller HS Varsity (Keller, TX)
70.67
II
8
Azle HS (Azle, Texas)
69.91
II
9
Memorial HS (Frisco, TX)
68.11
II
10
Keller HS A (Keller, TX)
67.52
II
11
McKinney North HS (McKinney , TX)
66.92
II
12
Lovejoy HS (Lucas, TX)
66.54
II
13
Reedy HS (Frisco, TX)
66.15
II
14
Keller Central HS (Ft. Worth, TX)
65.69
II
15
Timber Creek HS (Keller, TX)
64.9
II
Independent A
Eagle Mountain Independent really walked away with Independent A Class in Dallas. From their black and white uniforms with golden reflective lycra accents and golden knee-high "boots" (made up of the same gold lycra from the knee to the ankle) to their use of contrasting colors in their silks, their show was fun to watch. There's a lot of really great writing from start to finish, here, and they're doing a lot of great things, already.
Independent A
1
Eagle Mountain Independent (Saginaw, TX)
70.68
-
2
Latitude Independent (Dallas/Fort Worth, TX)
62.63
-
Scholastic Open
It was really hard to top Choctaw HS in Scholastic Open, in Dallas. In Equipment, Movement, and Design Analyses, they were ahead of second place by at least a half-point, winding up a total of 2.3 points higher than Flower Mound.
Unlock this video, live events, and more with a subscription!
Get Started
Already a subscriber? Log In
Choctaw's program, "Hereafter," has a lot of excellent equipment writing, making wonderful use of breath to create flowing, melodic phrases in each piece of equipment. The rifle writing, in particular, is incredibly musical, and the performers achieved it at a very high level. Their Equipment Vocabulary sub-caption score (78, the highest by four points) really put this guard on top of the pile.
Coppell HS came in 6th place with a 66.4 and probably had my favorite design aesthetic in Open Class. Their floor, props (cherry trees, park benches, a river, and a footbridge) were all made up entirely of the words from David Whyte's poem, "No Path."
Scholastic Open
1
Choctaw HS (Choctaw, OK)
74.8
II
2
Flower Mound HS (LEWISVILLE, TX)
72.5
II
3
Cedar Park HS (Cedar Park, TX)
69.6
II
4
Aledo HS (Aledo, TX)
67.9
II
5
Little Elm HS (Little Elm, TX)
67.6
II
6
Coppell HS (Coppell, TX)
66.4
II
Scholastic World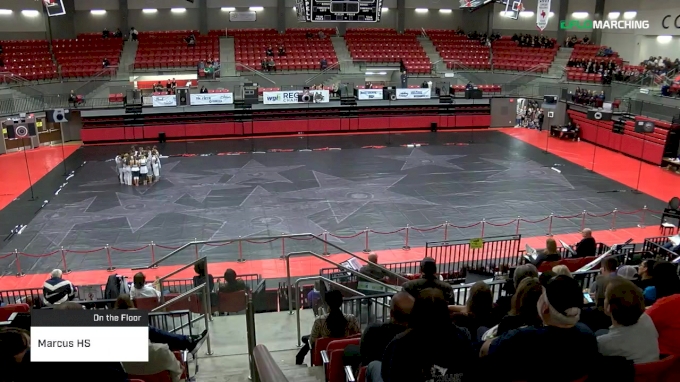 Unlock this video, live events, and more with a subscription!
Get Started
Already a subscriber? Log In
Marcus HS, the only guard in SW competition in Dallas, did a phenomenal job holding water against the Independent World groups that went on immediately after them.
This year's show includes a unique song about the pitfalls of becoming a star on the international stage. Marcus HS plays with lighting effects using mounted spotlights around the edges of the floor aimed at the audience to simulate paparazzi camera flashes that are timed to the rhythm of the lyrics.
To great effect, they focus their equipment work on the lyrical lines, responding to what the artist is singing, rather than focusing so much on the background musical cues which works very well for them.
Independent World
CGT Denton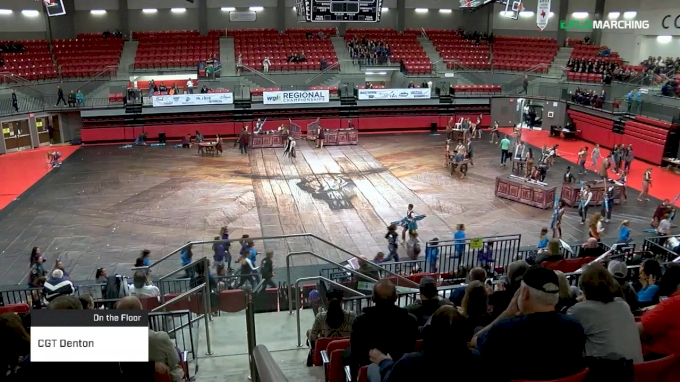 Unlock this video, live events, and more with a subscription!
Get Started
Already a subscriber? Log In
The DFW area is lucky enough to have two extremely talented IW guards in the CGT (Color Guard Theatre) organization—CGT Denton and CGT Dallas are both chock-full of incredibly talented performers who apparently have no fear, as evidenced by the fact that they keep doing tumbling passes underneath their equipment tosses.
Nobody can deny that the most memorable moments of most shows written by Michael Shapiro often involve equipment tricks that defy gravity, but the thing I always appreciate about his writing is the incredible musicality.
CGT Denton's program, "Wanted," screams Wild West from start to finish. Set in a saloon, the "main character" enters wearing a brown serape (reminiscent of John Wayne), only to almost immediately strip it off and go bare-chested for the remainder of the show. This, in typical guard world fashion, is met with deafening catcalls and "WHOOOOOOS!!!" from the audience.
Caught in a non-deadly gunfight against another man for a beautiful woman, this main character takes advantage of the audience's focus, with his purposely overexaggerated swagger and ridiculously talented weapon skills.
The rest of CGT Denton's cast serve as the onlooking bar patrons who, unwilling to sit idly by when there's someone posturing for a lady's affections, put on their own incredibly intricate performances around the center stage. A fantastic sabre feature takes place almost entirely sitting, which is immediately followed by a feature where they hold a beer stein in one hand and spin a sabre in the other.
Aside from the acrobatics, CGT Denton's ensemble equipment skills truly shine in their closing flag feature. Actually, the shining really starts during the build to that feature with the introduction of a turquoise, white, and brown flag that pops against the dusty tan floor.
For anyone who knows about flag design, the rule of thumb (if you want to appear super clean) is to avoid putting any isolated shapes of contrasting color on your flag (e.g. – a medium-to-large white circle anywhere on a flag surrounded by dark colors, or, in this case, a brown diamond in the middle of a bright blue and white flag). CGT Denton defies this design maxim and takes a risk that really pays off, because the flag work, despite being both tricky and performed in tightly packed groups, is only highlighted.
CGT Dallas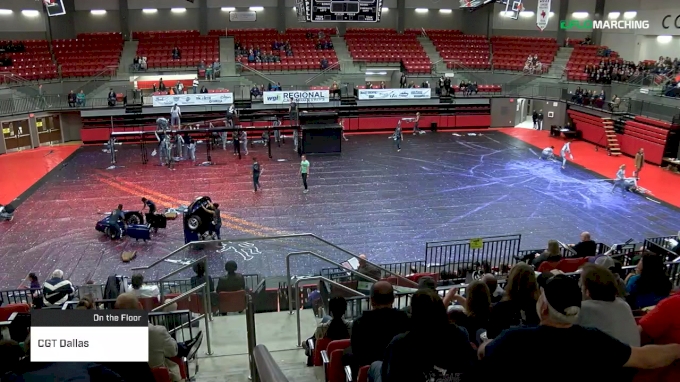 Unlock this video, live events, and more with a subscription!
Get Started
Already a subscriber? Log In
CGT Dallas's program has a lot of the same equipment elements that I mentioned about CGT Denton—closely staged performers executing incredibly high-risk, dangerous equipment work, and pulling it off remarkably well for this early in the season. Again, with Shapiro's equipment work, the brilliance of the writing is all in the nuance.
Their 2019 program, "Unsub," is the story of a performer who's killed someone in a hit and run car accident (there's a literal car on the floor).
The design elements include guard uniforms that split the unit into dark costumes (the CSI personnel) and the light costumes (the unsubs – "Unidentified Subjects"), a giant billboard offering a $50,000 reward for whomever leads to the capture of the perpetrator, a chalk outline, a fracture windshield on the floor print, and an interrogation room that moves around the floor disguised as scaffolding.
The opening flags are alternating white fingerprints against black, or black fingerprints against white, which I didn't notice during prelims because I was too busy watching the dancers performing center stage. There's always so much going on at one time, you have to watch the shows numerous times to really catch all the details.
Because of the way performers in Shapiro's shows are often staged, it's very easy to lose track of who's doing what, until before you know it there's a sabre seven being tossed and another performer does a backward swan dive onto the releasing performer's torso and catches it (no – that isn't hyperbole; that actually happens in this show).
Tricks come out of nowhere, and you can get easily sidetracked, even when you're trying to track a single performer.
There are a lot of really great potential moments in this show…if the performers can achieve them. One such moment involves the CSI rifle line throwing an ensemble seven facing outwards in a circle, rolling around to the person on their right, and catching their rifle in a blind catch.
In Finals, four out of eleven rifles dropped this exchange—only because it's a ridiculously hard trick to pull off without doing so. If each performers' spacing isn't almost perfectly equidistant around the shape, the person rolling in to catch has to travel either a farther or short distance in their roll to compensate for the spacing. Secondly, the performers cannot see each other's releases before they roll, meaning that they can't pre-judge the distance they'll have to travel should there be any variation in the release point.
That's just one of the incredibly complex and risky maneuvers on display at CGT Dallas, and once they've had more time to get these tricks under their belts, it's going to be quite the spectacle.
CGT Denton and CGT Dallas ended up scoring one-tenth apart (73.1 and 73.2, respectively). This happened because CGT Dallas incurred a 0.3-point penalty, bringing their score down from a 73.5. Regardless of penalties, these two guards pretty much evenly split the captions.
Dallas got 1st in Equipment and General Effect 2; Denton got 1st in Movement and General Effect 1. If nothing else, that shows that the CGT organization certainly isn't playing favorites. Both programs are putting out very competitive, insanely demanding, and highly entertaining programs.
Independent World
1
CGT Dallas (Dallas, TX)
73.2
-
2
CGT Denton (Denton, TX)
73.1
-