BOA
RECAP: Texas Turns Up the Heat In Last Weekend of September BOA Action
RECAP: Texas Turns Up the Heat In Last Weekend of September BOA Action
To close out the September, Texas took center stage on the Bands of America 2023 schedule, serving as the host state for three of four September 30 events
Oct 3, 2023
by Natalie Shelton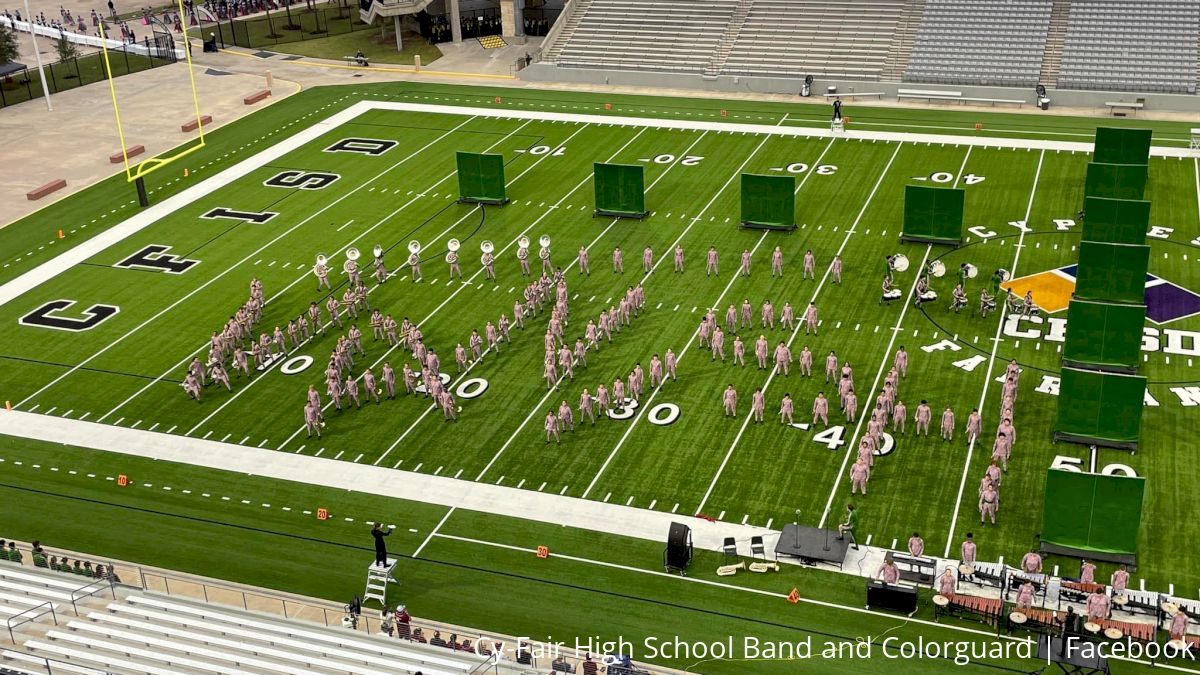 To close out the month of September, Texas took center stage on the Bands of America 2023 schedule, serving as the host state for three of four September 30 events.
Here's the full breakdown from BOA Week Three:
Cy-Fair earns Houston-area crown
Atop a Finals leaderboard of 12 bands separated by less than nine points in Shenandoah, Cy-Fair earned a strong victory, outsourcing second-place Clear Brook by 1.7. Clear Brook held its own sizable advantage over third-place Klein Oak, leading the way for second by 1.45 points.
Otherwise, though, the Shenandoah event featured a hotly-contested leaderboard; just five points separated third place from 12th place.
For Cy-Fair, though, caption wins in Visual Performance and General Effect made a major scoring difference. Outstanding Music Performance, however, impressively went to College Park, which took third overall, just behind third-place Klein Oak (77.950) and fourth-place Friendswood (77.750).
In the closely-contested race for a spot in the top three, Friendswood's large lead in General Effect kept things close despite falling behind Klein Oak in Music and Visual captions.
Braswell tops the charts in West Texas
In a lineup with plenty of bands who have made their own fair share of BOA headlines, including a 2022 BOA Grand National Semifinalist, Braswell (TX) made its name with a first-place finish at Saturday's Midland event.
It was a close finish, with Braswell (80.450) outsourcing the aforementioned semifinalist, Mustang (79.500), by less than a point. The two shared overall caption awards, with Braswell taking Outstanding Music Performance and General Effect while Mustang won Outstanding Visual Performance.
In an intriguing turn of the tables, Mustang earned the Class AAAA crown over Braswell in Prelims competition, before Braswell moved into first overall in Finals. In Prelims, Mustang earned a substantial lead in Visual over Braswell, but that advantage was noticeably slashed in Finals.
Robert E. Hendrickson wasn't far off the pace for the top two, scoring 78.300, while Sachse (76.800) and regularly-competitive New Mexico band Clovis (76.800) rounded out the top five.
Roma takes top score in McAllen
The high score of the weekend, a tally of 83.000, went to Roma, at a McAllen, Texas event featuring a deep slate of Texas bands.
In a close race for spots in the top three, Pieper (81.350), John B. Alexander (80.850), and United (80.125) all broke 80 and scored within three points of the winner, with Pioneer (5th, 79.750) also in the immediate hunt.
Things shifted slightly amongst the day's top four bands, though, between Prelims and Finals, as United finished ahead of John B. Alexander to win Class AAAA Prelims competition, despite earning no Prelims caption awards in said class. Pieper (AAA), Roma (AA), and Port Isabel (A) also earned class titles.
For Roma, a pair of Finals caption award wins in Music Performance and General Effect were the difference, while John B. Alexander took the award for Visual Performance.
Minneota, South Dakota stalwarts shine in the Hawkeye State
In a Des Moines, Iowa event featuring bands from seven states, Minnesota's Rosemount and South Dakota's Lincoln made a massive statement, each breaking 80 points and, together, outscoring the rest of the field by a gap of more than four points.
But Rosemount, in first place, made its own statement. Rosemount's lead over second-place Lincoln was 2.7 points, and its lead over third-place Bellevue West (75.600) was 7.15 points. The Minnesota band swept all caption awards, and coasted to a Class AAA title.
While the Iowa event's top two were in their own scoring strata, a close race unfolded for third place, as just three bands were separated by less than a point inside the top five.
Ultimately, Bellevue West locked down third — ahead of Eastview (74.950) and Camdenton (74.850) — posting strong Music Performance and General Effect scores despite finishing behind Camdenton in Visual Performance.