2023 DCI World Championships
History Made (Again) | Recapping 2023 DCI World Championship Finals
History Made (Again) | Recapping 2023 DCI World Championship Finals
History was made again! Here are all the exciting storylines you need to know as part of our recap for the 2023 DCI World Championship Finals
Aug 14, 2023
by Natalie Shelton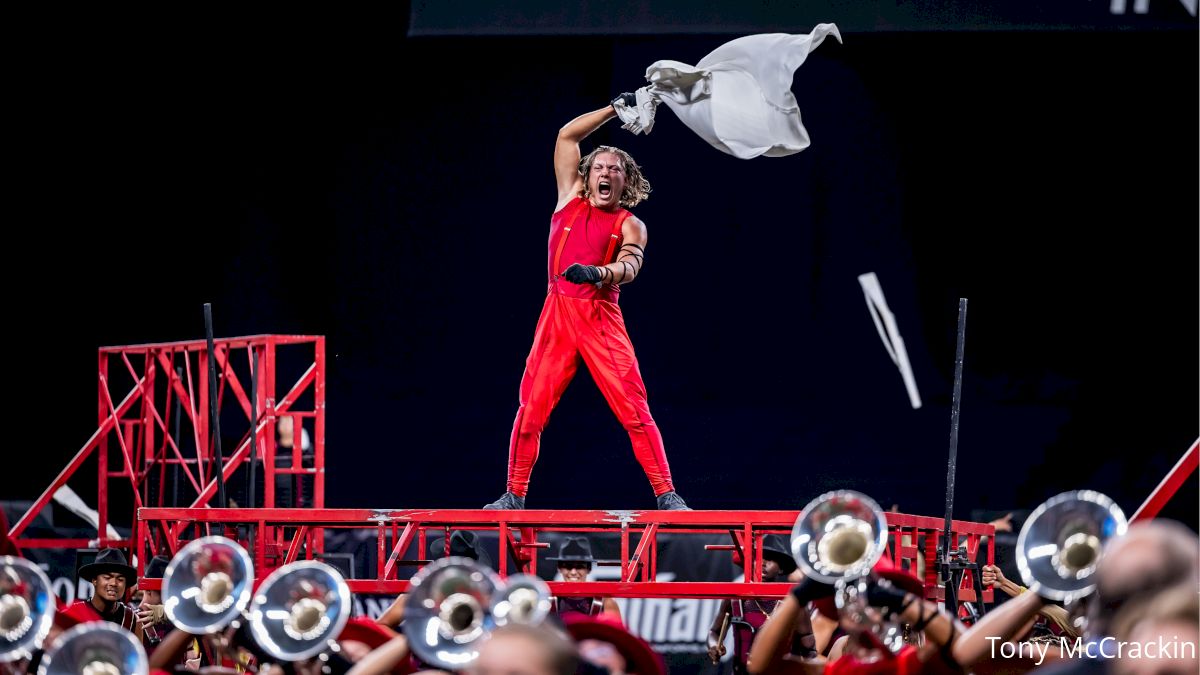 And just like that, another season of drum corps has come to an end.
As we bid farewell to Lucas Oil Stadium, here's a recap of all of the history, hype moments, and final scores from the 2023 DCI World Championship Finals.
Want More Content From World Class and Open Class Finals?
Subscribe to the FloMarching YouTube for Exclusive Content | Follow FloMarching on Instagram for Behind-The-Scenes Content
Your 2023 DCI World Champion Gold Medalists... The Blue Devils
Blue Devils claimed their 21st gold medal at this year's 2023 DCI World Championship Finals with their program titled, 'The Cut-Outs,' making it the organization's first three-peat ever, all while extending their already impressive unbeaten streak. The last time the Blue Devils lost in overall score was to the Bluecoats at 2019 World Championship Prelims.
In addition to claiming first place, BD also nabbed caption awards in General Effect, Visual Performance, and Color Guard.
Unlock this video, live events, and more with a subscription! Get Started

Already a subscriber? Log In
In case you need a refresher on how the scores shook out on Saturday night, here are how the top-12 ended their 2023 seasons:
2023 DCI World Championship Finals
1
Blue Devils
98.975
2
Bluecoats
97.738
3
Carolina Crown
97.663
4
Boston Crusaders
96.925
5
The Cadets
94.313
6
Mandarins
93.775
7
Phantom Regiment
92.988
8
The Cavaliers
92.125
9
Colts
90.263
10
Troopers
89.475
11
Blue Stars
88.625
12
Blue Knights
86.375
And here are your 2023 DCI World Championship Caption Award winners...
John Brazale Best Visual Performance Award: Blue Devils
Fred Sanford Best Percussion Performance Award: The Cavaliers
Don Angelica Best General Effect Award: Blue Devils
Jim Ott Best Brass Performance Award: Carolina Crown
George Zingali Best Color Guard Award: Blue Devils
Quick Hits - History Makers, Shakeups, and More
Blue Devils win its first Zingali award for the first time since 2015
The Cavaliers claim its first Fred Sanford award for the first time since 2011
Phantom Regiment earn its highest score and tie for its highest placement since 2014; 7th place with a score of 92.988
Colts achieve its highest score in program history on Finals night with a 90.263
Mandarins earn its highest-ever score and placement in the World Class; 6th place with a score of 93.775
Music City achieve its highest-ever World Class score with an 82.875
Troopers earn back-to-back World Class Finalist performances for the first time in program history
Blue Knights made its return to Finals after just missing the top-12 cutoff in the 2022 DCI season
The Cadets achieved its highest placement since 2016; 5th overall
Behind-the-Scenes Key Points
Dan Acheson has officially overseen his last DCI World Championship competition as the CEO of DCI. Following an emotional tribute to the long-time member of the Drum Corps community, fans now eagerly await who will replace Acheson in the pivotal leadership role
Drum Corps International and Visit Indy have announced a multi-year contract extension, building on their longstanding partnership and re-establishing downtown Indianapolis as home to the DCI World Championships and SoundSport International Music and Food Festival through 2033. Learn more here.
DCI All Age will be rolled into the mix this upcoming DCI season and will run through 2025. Learn more about the partnership here.
Open Class Recap: Your 2023 DCI Open Class World Champion Gold Medalists... Spartans
Spartans claimed their second Open Class gold medal in program history with their 2023 production titled, 'Surreal.' The Nashua-based drum corps had a stellar season, all culminating in a decisive victory at Open Class World Championships on August 8, winning top placement overall in addition to winning four out of the five Caption awards (General Effect, Visual Performance, Percussion, and Color Guard), with the Brass caption award going to second-place Gold.
Open Class
1
Spartans
82.263
2
Gold
80.675
3
Southwind
79.125
4
Columbians
76.388
5
The Battalion
75.475
6
Guardians
72.688
7
River City Rhythm
71.775
8
7th Regiment
71.313
9
Colt Cadets
70.025
10
Raiders
68.650
11
Les Stentors
65.900
And here's a breakdown of the Caption Award winners:
Best Brass: Gold
Best Visual: Spartans
Best Color Guard: Spartans
Best General Effect: Spartans
Best Percussion: Spartans