2023 WGI Guard World Championships
RECAP: All the scores, highlights and memories from WGI Guard Finals Day
RECAP: All the scores, highlights and memories from WGI Guard Finals Day
Four color guards took home class championship titles on an unforgettable final day of the 2023 WGI Color Guard World Championships.
Apr 16, 2023
by Jeff Griffith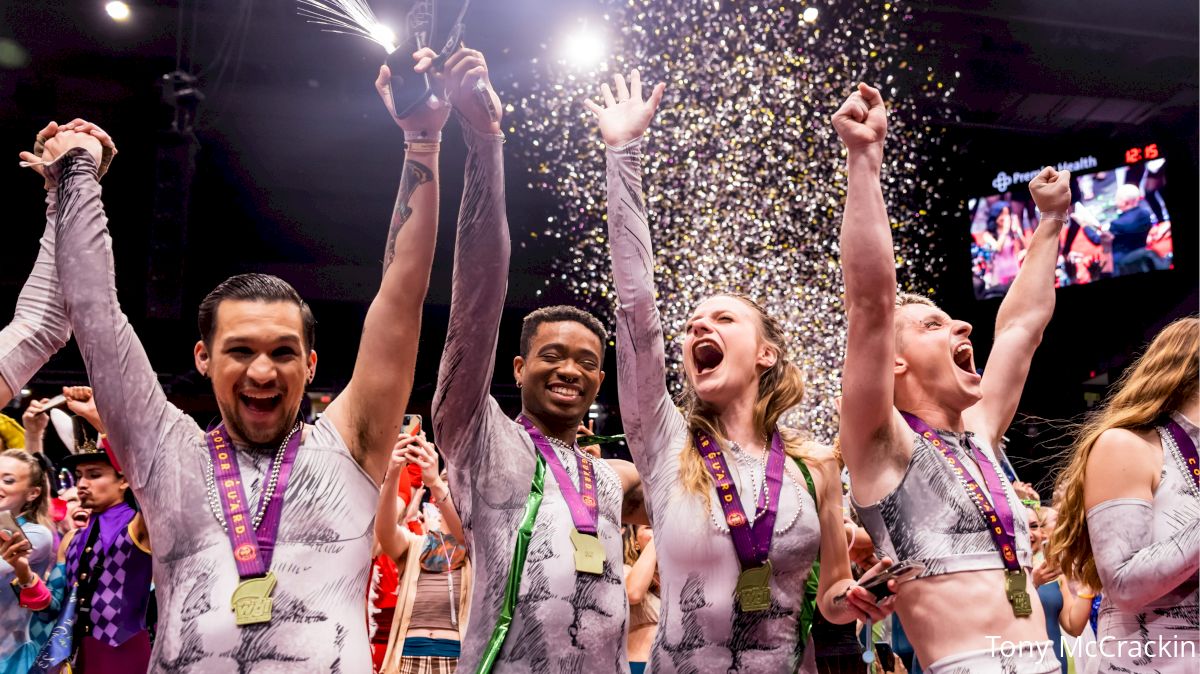 Paramount, Carmel, Vox Artium and Somerset Academy all took home championship titles on an unforgettable final day of the 2023 WGI Color Guard World Championships.
Here's a look back at all of the fun from Saturday:
For the first time since 2018, Paramount took home a championship title, with a score of 97.450, scoring more than a point ahead of fellow medalists Blessed Sacrament (96.400) and Pride of Cincinnati (96.000).
For the first time since 2018 — congratulations to Independent World champion Paramount, and all of this weekend's amazing IW performers!! 🤩#wgi2023 pic.twitter.com/9d9xkUPVNc

— FloMarching (@FloMarching) April 16, 2023
Fusion Winter Guard completed its impressive rise from 10th a year ago to fourth place this season, scoring 93.950. Fantasia (92.350) also made waves to round out its 2023 season, moving from a non-finalist position a year ago to fifth place this season. Onyx (90.800) rounded out the top six, scoring just ahead of ORIGINS (7th, 90.400) and Mirage (8th, 90.050).
Etude moved up one position from its Semifinals finish, earning ninth place with a score of 88.250, while UCF Pegasus World rounded out the top 10 and scored 86.950. AMP Winterguard, a crowd favorite, took 11th with a score of 86.450, ahead of 12th-place FIU World (84.600).
Tying for the second night in a row, Tampa Independent and Juxtaposition each earned scores of 83.150, while Mayflower rounded out the Top 15 at a tally of 81.800.
Carmel (1st, 96.550) earned its first World Championship since 2017, in a close finish over Tarpon Springs (96.250). Avon (94.400) moved up from fourth in Semifinals to third, earning bronze by 0.1 points over The Woodland (4th, 94.300).
In a close finish, Carmel snags gold, Tarpon takes silver and Avon jumps up into the Top 3. Congrats to all Scholastic World ensembles!! 🏆#wgi2023 pic.twitter.com/bTk2821YM2

— FloMarching (@FloMarching) April 16, 2023
Arcadia (5th, 91.900) and Miamisburg (6th, 90.050) rounded out the top six, both breaking 90 points. Northview scored just outside the top six, scoring 89.500 in seventh.
El Dorado was one of the night's biggest movers, jumping two spots to eighth place with a tally of 87.700. West Broward (9th, 86.650) and Cleveland (85.650) completed the Top 10.
Last year's Scholastic Open champion, Kiski Area jumped one spot from Semifinals to 11th, scoring 84.050 — just one tenth of a point ahead of Stoneman Douglas (12th, 83.950), with Center Grove (13th, 83.650) close behind. Chino Hills (14th, 81.600) and Warren Central (80.700) completed the finalist pool.
---
Vox Artium earned the 2023 Independent Open title in a close finish, scoring 96.700 to Etude Open's second-place mark of (96.350). The Pride of Missouri State (92.900) earned the bronze medal, with ORIGINS Open (4th, 92.700) and Edge Independent Open (5th, 92.100) both scoring within a point to round out the top five.
La Voute rounded out the IO top six with a strong score of 91.200. Allegiance moved up one spot into seventh place, scoring 89.700 to eighth-place Pegasus Winterguard's 89.100. Alta Marea Winterguard (88.450) and Glory Independent rounded out the Top 10.
A handful of close scores fit into positions 11 through 15, with Top Hats' 85.650 leading the way. Emerald moved up one spot from Semifinals into 12th (84.350), outsourcing Main Line Independent (13th, 83.750) and 3rd Legend (14th, 83.400) both by less than a point, while i-Squared earned 15th place (81.750).
We're coming down the home stretch at Open Class Finals!! #wgi2023 📸

Tune in for awards at 2:15p ET » https://t.co/ZquRmCXi6P pic.twitter.com/bkhjKCRSqh

— FloMarching (@FloMarching) April 15, 2023
Somerset Academy's Scholastic Open victory was also a close one, as the Florida guard (97.250) finished just 0.3 points ahead of Mt. Carmel (2nd, 96.950). Milford rounded out the medalist category with a score of 94.750.
Centerville, though, was within close striking distance of the top three, scoring 94.600 in fourth place. Closely matched, Oviedo (5th, 91.900) and Brownsburg (6th, 91.850) each earned top six positions.
Performing a memorable spider-themed production, Shenendehowa was the seventh and final SO ensemble to break 90 points, scoring 90.850.
Northmont (8th, 89.100) and American Fork (9th, 88.650) were among the biggest movers from Semifinals to Finals, each moving up two positions in Saturday's competition. Westlake (10th, 88.450) rounded out the Top 10, ahead of William R. Boone (11th, 87.500).
Palm Desert Charter Middle School capped off an impressive season scoring among the Open Class Top 12 with a score of 85.600. Friendswood (13th, 83.750) jumped up two spots from Semifinals, ahead of Naperville Central and Franklin Central, who tied with a score of 82.850.