That Dan Band Show
That Dan Band Show, Ep. 31: Sergio Bravo of Marching Vlogs
That Dan Band Show, Ep. 31: Sergio Bravo of Marching Vlogs
Dan sits down with Sergio Bravo, Co-Creator and Operations Manager of the online platform Marching Vlogs
Dec 5, 2022
by Natalie Shelton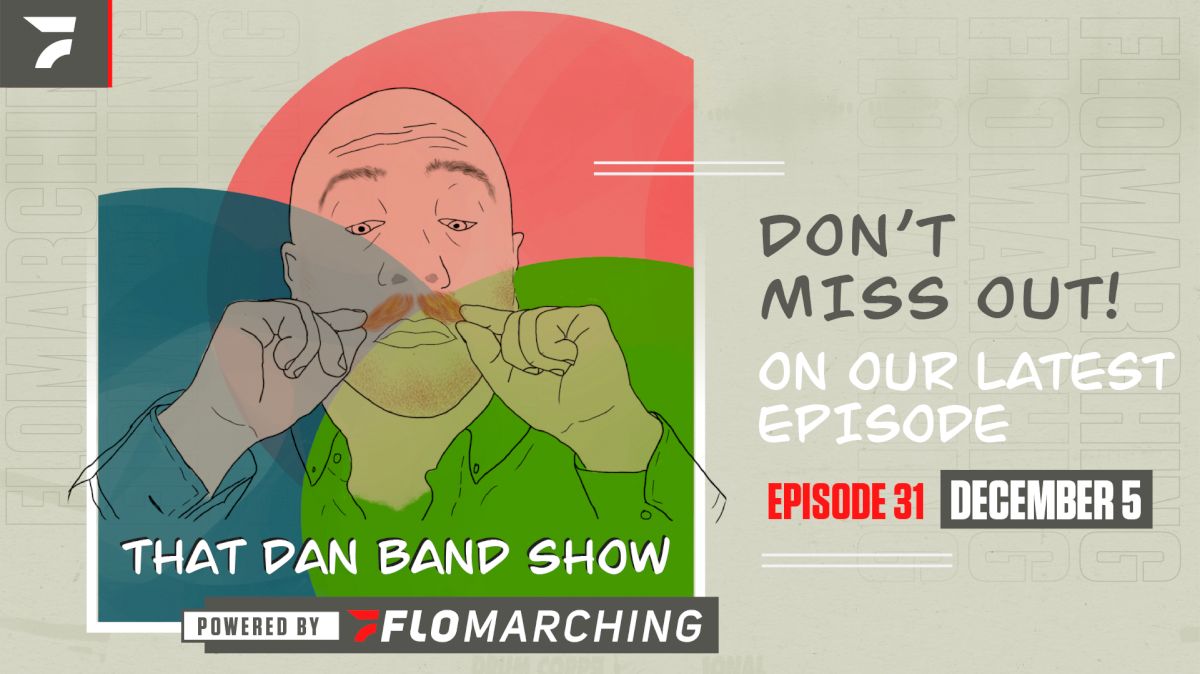 On this episode, Dan sits down with Sergio Bravo, Co-Creator and Operations Manager of the online platform Marching Vlogs. They discuss the origins of MV, what Sergio learned through building his online brand, and the role content creators play in the marching arts.
That Dan Band Show, Ep. 31: Sergio Bravo of Marching Vlogs
Get the FULL Experience - Watch The Episode On YouTube
Show Timestamps
00:00:00-00:02:54 - Intro
00:02:55-00:03:42 - MV hit 1K followers on Instagram. Talk about that
00:03:43-00:05:39 - What about the last six months has specifically gotten things pop off
00:05:40-00:06:18 - Is Marching Vlogs your full time job? Or something you're trying to work into a full-time gig?
00:06:18-00:08:01 - Are you self-taught? How did you learn these skills you apply to MV?
00:09:09-00:12:33 - Editing & using Marching Vlogs as a way to document someone's summer experience
00:12:33-00:17:59 - How did you come up with the idea for IG takeovers for Marching Vlogs?
00:18:00-00:25:40 - What are you doing on a daily basis and during the "slow times" in the season?
00:25:41-00:28:33 - How do you manage MV?
00:28:34-00:30:48 - How does Marching Vlogs make a profit?
00:30:49-00:36:26 - Do you see yourself being able to grow your content in terms of its breadth in terms of getting outside of the marching arts?
00:39:27-00:39:27 - Are you currently doing long-form documentary-style videos? Is that something you're looking into?
00:39:28-00:46:24 -Do groups like being mic'd up? Pros and cons of it?
00:46:25-00:50:14 - Allowing people to see the best drummers as human is a good thing
00:50:15-00:53:54 - Are drum lines always playing clean?
00:53:54-00:55:40 - What do you like and dislike about social media?
00:55:41-01:00:01 - What makes a good content creator in your eyes?
01:00:01-01:04:22 - How do you deal with backlash for stuff you post?
01:04:23-01:05:46 - On "representing a brand"
01:05:47-01:11:32 - Lot video culture is huge. Why is it not the same for front ensembles?
01:11:33-01:15:12 - Boston's 2022 season & judging drum corps
01:15:12-01:19:31- Outtro