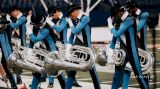 2018 DCI Midwestern Championship Presented By DeMoulin Bros. and Co.
St. Louis, MO
Jul 15, 2018
Jul 15
St. Louis, MO
The Blue Devils have ended the Bluecoats perfect season. With a final score of 87.350, the reigning world champions capped off a wonderful night of performances from inside The Dome at America's Center.
The Bluecoats finished only 0.225 points behind BD. Carolina Crown was able to secure third place with a score of 85.925. The Cavaliers unveiled some new colorful tarps across the field and finished 4th with a 85.025.
In the percussion sub-caption, there was a very interesting shake-up resulting in Carolina Crown winning drums, with Blue Devils coming in very close second. Although they earned second overall, Bluecoats took 6th in percussion in St. Louis. This is a good and bad thing because it leaves lots of room for improvement for the corps, as well as an explicit route through which the corps can possibly catch up with Blue Devils and take the lead.
In the middle tier of corps, Blue Stars shocked many with a finish over Phantom Regiment. Mandarins were only about a point behind Phantom as well, keeping them locked in tight with the pack. Crossmen were a decent distance behind the Sacramento corps, with a gap of 1.625 points.
| | | |
| --- | --- | --- |
| | World Class | |
| 1 | Blue Devils | 87.350 |
| 2 | Bluecoats | 87.125 |
| 3 | Carolina Crown | 85.925 |
| 4 | The Cavaliers | 85.025 |
| 5 | Boston Crusaders | 84.575 |
| 6 | The Cadets | 82.175 |
| 7 | Blue Stars | 80.600 |
| 8 | Phantom Regiment | 80.438 |
| 9 | Mandarins | 79.500 |
| 10 | Crossmen | 77.875 |
| 11 | Spirit of Atlanta | 76.850 |
| 12 | Madison Scouts | 75.075 |
| 13 | Colts | 75.050 |
| 14 | Music City | 66.700 |
| 15 | Genesis | 65.900 |
| 16 | Jersey Surf | 63.600 |
| 17 | Pioneer | 57.435 |
| | | |
| | Open Class | |
| 1 | Legends | 61.425 |
| 2 | Colt Cadets | 53.150 |
| 3 | Shadow | 52.675 |