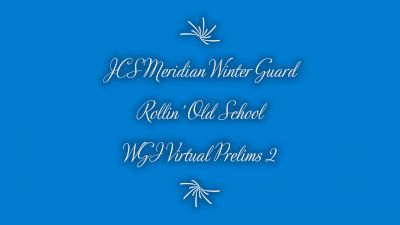 JCS Meridian Winter Guard- Rollin' Old School
Mar 17, 2023
JCS Meridian Proudly presents its 2023 production: Rollin' Old School: The Argyle Race!
Taking its idea from a famous bike race that originated in England, this year's show explores the nostalgia of this race as we recreate an old fashion bike race that would have taken place 100 years ago on the winterguard floor. Patterns of argyle, on the uniforms, prop pieces and within the patterns of the flags showcase this old look. Our floor design will be transformed into old cobblestone streets and old fashion banners similar to this period. We will be spinning and dancing and maybe even a little bike riding during the show.

JCS- Meridian is thrilled to be a part of WGI's virtual and in person season again this year. Meridian consists currently of members between 6th and 11th grades. Meridian was awarded as silver Medalists in 2022 season at the Tristate Marching Arts Circuit Championships as well as 2nd Place at the WGI Virtual Finals in 2022, both in Independent Regional A. This year, Meridian Winterguard had the opportunity to appear at its first WGI in person Regional competing at the Knoxville regional, making finals and being awarded class champion at this regional in Independent Regional A. JCS- Meridian is under the direction of Adam Miller and Angela Miller, who also co-direct the Red Oak Elementary winter guard.

This video is from a contest earlier in the season at the Lafayette Show at a local tristate contest.