Coming to you from Austin, TX, at the FloSports Headquarters, "On The 50 with Dan Schack" hosted by designer, educator, and much, much more... Dan Schack. During this show, Dan interviews some of the most sought after designers and educators in the marching arts–period.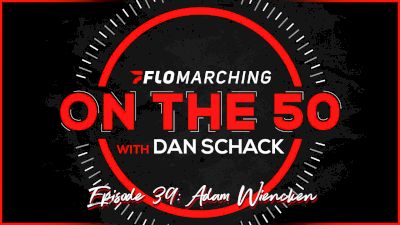 Introducing Adam Wiencken | On The 50 with Dan Schack (Ep. 39)
Oct 1, 2020
Adam Wiencken is the Percussion Specialist for Broken Arrow Public Schools in Broken Arrow, Oklahoma. As Director of Percussion and Battery Arranger for the Pride of Broken Arrow Marching Band, the ensemble is a frequent Bands of America (BOA) Regional Champion and Grand National Finalist. The Pride of Broken Arrow was the BOA Grand National Runner-Up in 2012, 2014, and 2017, and was the 2014 BOA Grand National Class AAAA Champion. In 2011 and 2015 The Pride of Broken Arrow was named the BOA Grand National Champion.