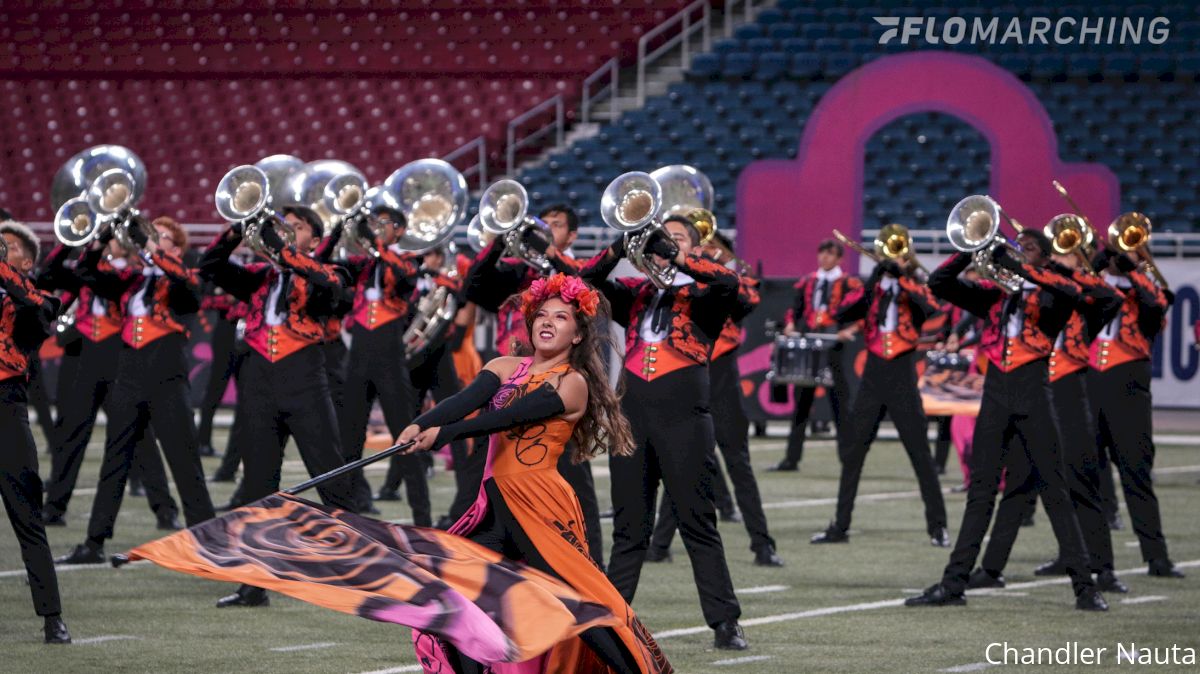 Unlock this article, live events, and more with a subscription!
Get Started
Already a subscriber? Log In
The Dome at America's Center played host to two days of incredible competition this weekend. Nearly 70 bands from 13 states gave their best, but only 14 groups advanced to finals, and only one was named Super Regional champion.
Check out photos of each band from finals at the 2019 BOA St. Louis Super Regional on October 19th by photographer Chandler Nauta.
TOP DOWN: BOA St. Louis Super Regional Drill Moves
Unlock this video, live events, and more with a subscription!
Get Started
Already a subscriber? Log In
The Run-Down
Broken Arrow (1st, 92.05) was the clear champion, earning first place from every single judge in prelims and finals. Their 2019 production lit up the crowd before they even started after BOA announcer John Pollard gave a tremendous "Yee-haw!" — and that excitement didn't end until the show was complete.
Fresh off last year's bronze-medal finish at Grand Nationals, Blue Springs (2nd, 90.275) earned a solid finish among some outstanding Texas bands and just behind BA. The Golden Regiment will head to Indianapolis next weekend to compete against some of the best Indiana bands, including the reigning national champion and runner-up.
Texas bands L.D. Bell (3rd, 89.200) and Haltom (4th, 88.150) swapped placements from prelims to finals. With L.D. Bell's long history of success at the Regional, Super Regional, and national level, the bronze-medal finish here isn't a shock, but seeing Haltom not too far behind, and even ahead in prelims, was perhaps unexpected. In the last year of the Atlanta Super Regional, Haltom finished third, but in the years preceding that, never finished above ninth in St. Louis. Clearly, these results this year demonstrate that 2017 was just the beginning of something special for this program.
O'Fallon Township (5th, 88.050), fresh off their first national finals appearance, finished just one-tenth above Coppell (6th, 87.950). After two years of tarp-themed shows, O'Fallon went a different direction, using the provided green performance surface this year. But their strength in visual performance remained, earning second place from the field visual judge in finals. Coppell's strength alternatively came from music performance, where the band finished third. The show was perfectly designed to highlight all the strengths of that ensemble, especially the trombone and flugelhorn duet in the ballad!
Union (7th, 86.250) and Stephen F. Austin (8th, 85.550) held down the middle spots in finals competition. Because of the top half/bottom half draw for finals performance times, there's frequently a large score gap between seventh place, the last spot of the top half, and eighth place, the first spot of the bottom half. In this case, that gap was rather small, with many judges have SFA and other bottom-half finalists ranked among the top seven groups in their caption.
A tie between Carroll (9th, 83.600) and Camdenton (10th, 83.600) was broken by the higher general effect score, in accordance with BOA rules. While Carroll held a strong lead in music performance and music effect, Camdenton was able to close that gap with their sixth- and seventh-place finishes from each of the visual judges. That visual prowess is also what allowed Camdenton to step ahead of Rosemount, who they lost to just a month ago at the BOA Iowa Regional.
Rosemount (11th, 82.975) finished with a tiny margin above Lake Travis (12th, 82.950) and Jenks (13th, 82.800). These razor-thin gaps in finals score illustrate how competitive each of these bands was. Taking a close look at the recap, you'll see the placement of these three groups flip-flop from judge to judge, with each band having their own strengths and weaknesses in different captions.
Bentonville (14th, 81.450) rounded out the finals placements. For this band, just making finals was a huge accomplishment. Because of the dynamics of the split-panel judging, and their performance time early on Friday, it's very possible that their performance could have been forgotten by the time many of the top bands performed Friday night or Saturday morning. Well, Bentonville did more than give a memorable performance, finishing a solid 10th in prelims and fourth in their judge panel.
We were also treated to a special exhibition performance by A class champion Union City. The "Purple People" not only won their class, but also won the caption awards for music, visual, and general effect in class A.
Just Outside Finals
Some well-known names were missing from the finals competition this year, simply because of the huge number of incredible bands in attendance. Bixby finished 15th, just two tenths out of finals, followed closely by Air Academy and Franklin, each an additional two tenths behind. The prelims recap indicated each of these bands had some clear strengths.
Franklin had some remarkably high individual scores, placing eighth from both field judges. This demonstrates the incredible training and skills these students have. Air Academy's strength was in the music effect caption, where both judges had them ranked in finals. Bixby had both those strengths, earning finalist rankings from both field judges and both music effect judges.