Create a free account to unlock this article!
Get Started
Already a subscriber? Log In
Special thanks to the Mandarins Drum & Bugle Corps for providing the video involved in this exclusive announcement.
55 years after it was founded, the Mandarins broke into the field of the best twelve drum and bugle corps in the world, of 2018. The year prior, they were just one spot short and less than one point behind the twelfth place group, Madison Scouts.
After making DCI World Championship finals for the first time ever, the Mandarins are coming back for seconds with their 2019 program "Subterra." See the full interview with designers Ike Jackson and Mario Ramirez for a deep dive into their 2019 production and the goals that they have set for Sacramento Mandarins as the organization takes steps up through the ranks of DCI's best drum and bugle corps.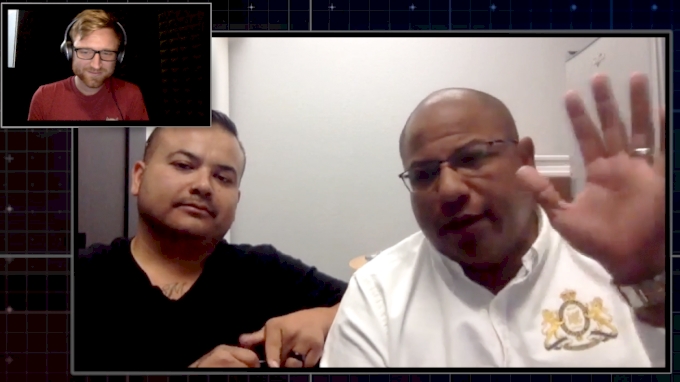 Unlock this video, live events, and more with a subscription!
Get Started
Already a subscriber? Log In
As the corps takes their next step into the future of DCI, they are bringing along a few characteristics that helped make Mandarins such a unique corps in the last few seasons: theatrics combined with a show that, while not completely obvious at the first watch, is still very communicative to the audience.
Designer, Choreographer, Colorguard Caption Head and Creative Director Mario Ramirez explained that the show "will take its audience on a journey of an underground hidden society that claims territory but can never be discovered." The story of Subterra is one of an underground cult that comes out of hiding as it moves from location to location to discover the next step in their progression as a very small community. During their travels, an intruder interrupts their spiritual gathering held to celebrate their arrival to the newest location. As the show continues, the corps will take the audience through different episodes as the intruder faces the consequences of his actions.
The corps' music selections include original creations, inspirations from a few very popular drum corps tunes, and "Truman Sleeps" from The Truman Show, a piece by Philip Glass. The original compositions are collaborations between long-time brass arranger Key Poulan, Brian Nungaray, and Darren VanDerpoel.
Watch exclusive content of the 2019 Mandarins during their December audition camp.
Ramirez finished his description of the show with: "[Subterra is] our most theatrical and poetic production yet. It is visually enchanting and a roller coaster of emotions that will captivate all of its audiences."